Andy Murray vs Novak Djokovic: A highly anticipated clash at the Madrid Open 2022
Clashing after five years, Andy Murray will meet his oldest rival Novak Djokovic at the Round of 16. A storm is quite evident on such a meeting.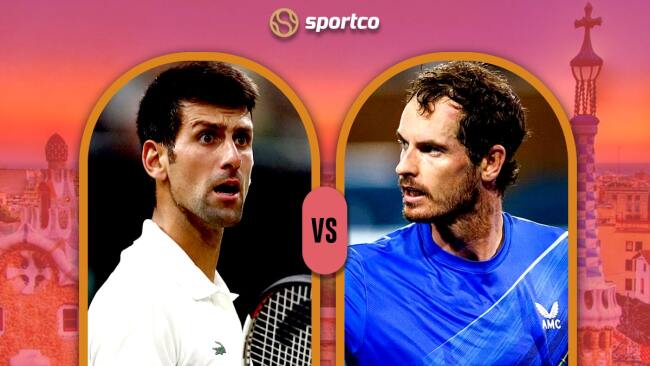 Novak Djokovic vs Andy Murray: Preview
Murray defeated his opponent, Canadian Denis Shapovalov, in a three-setter 6-1, 3-6, 6-2. The last time they were opponents, it was Shapovalov who had the upper hand against the Scott in the Wimbledon. 
Andy Murray showed his trademark determination as well as a maintained fitness level and sharp movement to break the Canadian's rhythm. He even had an opportunity in the second set at 2-2 to take the lead, but could not convert it into his favour. 
But it was Shapovalov who found his range and surged through the second set. The third set saw Shapovalov cut the margins a little too tight, giving Murray his fourth break of the match and his sweet revenge after two hours and nine minutes.
Murray's first match was against Dominic Thiem, where he defeated the Austrian in three sets. His first win against a former top 10 player.
Novak Djokovic on the other hand smoothly sailed into his next round, after defeating Gael Monfils in straight sets. 
Describing his win over Monfils as his "best performance of the year" the 20-time major champion ensured he would keep his World No 1 rank for longer. Djokovic has an 18-0 head to head count against the Frenchman.
But the Round of 16 will be seeing these two giants after 5 years, their last meeting taking place in the Doha Open, where Djokovic won the match 6-3, 5-7, 6-4. 
"He's the world number one and I've got a metal hip," world number 78 Murray told Amazon Prime. "I didn't know I'd get opportunities to play matches like this again. In theory I shouldn't have a chance in the match.
Novak Djokovic vs Andy Murray: Head-to-Head Record
Novak Djokovic has a 25-11-win record against Andy Murray, who has known since childhood and has played against 36 times in the professional circuit.
Both have been trying to find their former forms this entire tournament, and it seems both are successfully on the path. But only tomorrows match can tell you prevails over whom.
Let's look at some of the stats of Novak Djokovic and Andy Murray over the years.
| Novak Djokovic |  Head-to-Head Record | Andy Murray |
| --- | --- | --- |
| 25 | Head To Head Wins | 11 |
| 20 | Grand Slams Won | 11 |
| 86 | ATP Titles Won | 46 |
| 19 | Met in the Finals | 19 |
Novak Djokovic and Andy Murray played against each other at the 2016 finals of the Madrid Open, where Djokovic won 6-2, 3-6, 6-3 in two hours and six minutes.
Novak Djokovic vs Andy Murray: Journey so far in 2022
Djokovic arrived at the Madrid Open finishing as the runner-up at the Serbia Open. He seems to get better and better after his first-round defeat against Alejandro Davidovic Fokina at the Monte Carlo Masters. 
Djokovic's serve and forehand worked quite well against Monfils as compared to his previous matches as he was able to convert and control the points later on. 
Andy Murray too has done quite well in Madrid so far. He had initially thought of not playing the clay-court season as his hip was giving him problems but accepted the wild card entry in the finals moments. 
The Scott has gone through quite a few ups and downs of his own since his return to the tour. Looking fitter and moving well as compared earlier in the season, Scott was able to chase down many balls to keep the points going.
Both the players look at the top of their games, but Murray will have to do a lot better if he has to vanquish Djokovic.
Match Prediction: Sportco predicts that Novak Djokovic to win by 3 sets against Andy Murray