Pep Guardiola's predicament : The cons of being a perfectionist
"Convictions are more dangerous enemies of truth than lies." Friedrich Nietzsche.
Often, one's greatest strength could also be his greatest vulnerabilities.Throughout his managerial career, it was Pep Guardiola's philosophy that stands him out from the pack and rendered him as a top coach in Spain, Germany and now England. 
Yet, on different occasions, Pep appeared to be a victim of his own ideology and being relentless about how he wants his philosophy to be applied.
Aside from his first season in England, Guardiola had enjoyed non-stop success since he started at Barcelona with his 14 titles in his first three years as a coach. Moving to Germany to be the manager of the reigning champions Bayern Munich, with totally different ambience where he added another eight titles to his name. 
He fell short of claiming Europe's biggest prize, the UEFA Champions League, where the Bavarian were eliminated in the semi-finals stage in three consecutive seasons.
Guardiola's most recent destination has been Manchester City, where things got off to bad start. He was severely criticized in his first season for the way he wants to play his football in the Premier League. 
Everyone except Pep came to a realization that his philosophy won't fit the English football but he was adamant that he wouldn't change his mind about his philosophy.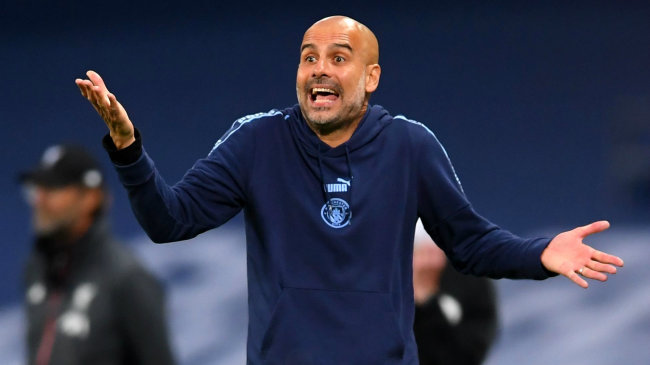 Guardiola was stubborn in his philosophy but not in the execution. In the next couple of seasons, he managed to prove that his philosophy could be applied under any circumstances. He didn't succumb to the pressure and after modifying some details in his philosophy, he started to achieve what everyone else dreams of. 
Record-breaking Premier League wins followed, which established him as one of the finest coaches to have graced the Premier League. 
His last season with the Cityzens wasn't as good as the two previous seasons. The Spaniard failed to win any domestic title except EFL Cup and the last hope for him to save the season was the Champions League but it was crashed by Lyon in the quarter-final stage.
Now, it has been ten years since he won the Champions League, which begs the question about Pep's philosophy. Most importantly, can Guardiola's philosophy win the Champions League without players such as Messi, Iniesta, Xavi, and Busquets?
Guardiola undoubtedly belongs in the higher echelons of the football's greatest manager whether he succeeds in winning the Champions League with Man City or not. But his failure to progress beyond the quarter-final stage in any of his last three seasons since moving to English football indicates a flaw in his method.
Guardiola's tendency to overthink on the biggest of occasions remains his Achilles heel.It becomes such a truism to see him over-complicating the knock-out games. It becomes clear even for mere mortals that he still wants to revolutionize, he is still trying to find ways to insert his maniacal intellectualism into the fine details of any game and that has scuppered Manchester City's chances in the CL time and again. 
The solution to this dilemma seems plain and simple, right?
Any solution that doesn't go with Guardiola's convictions isn't an option for him. He doesn't just want to win, he wants to win emulating his way and until Pep knows that sometimes you have to act like any other coach and focus on winning the game however the way is. 
Until and unless he does that, City or any other team under his management won't be lifting the Champions League anytime soon.
Cover image credits: FCBN