Real Madrid 2017 Squad: How Zidane led the Los Blancos to UCL glory
We will never see a team like Real Madrid squad of 2017, who dominated European football by winning an unprecedented three consecutive Champions League crowns (2015-16, 2016-17, 2017-18) under the guidance of Zinedine Zidane. 
After winning the 2013-14 Champions League, the Los Blancos hit rock bottom as they went trophyless in the 2014-15 season and saw their rivals winning the treble. 
The club went under a massive re-building phase and what followed after that was an era of dominance of Real Madrid for three years on the trot under Zidane. 
After the sacking of Rafael Benitez, the Los Blancos appointed Zinedine Zidane, under whom Real Madrid adapted quickly and started delivering positive results. 
This saw the Spanish giants winning a hattrick of Champions League crowns in 2015-2016, 2016-2017 and 2017-2018. 
Sportco delivers an in-depth review of the 2016-2017 season of the Real Madrid squad.
First La Liga trophy since 2011-12 season:
In the 2016-17 season, Real Madrid revamped their squad and made some great signings before the start of the new season. 
The club started the 2016-17 season with a 3-0 victory over Real Sociedad and was looking to claim the La Liga title after last winning it in the 2011-12 season. 
However, Real Madrid continued their fine form under Zidane and embarked on a winning streak. The trio Ronaldo, Benzema, and Bale were rampant in front of goal.  
It looked like Real Madrid and Barcelona were the only two contenders in La Liga. Real's third defeat came at the hands of Barcelona, as they lost 3-2. One of the memorable games of EL Clasico. 
But Real Madrid continued their quest for La Liga and eventually won the title by edging Barcelona on three points gaps and winning their first-ever title since 2011-12 under Zidane. 
Real Madrid La Liga Stats for 2016-17 season:
| | |
| --- | --- |
| La Liga Points  | 93 |
| Points per game | 2.45 |
| Played  | 38 |
| Lost  | 3 |
| Drawn  | 6 |
| Top scorer   | Cristiano Ronaldo (25) |
| Top assists   | Toni Kroos (12) |
| Clean sheets  | Keylor Navas (5) |
Real Madrid Squad of 2017: Champions League winners, UEFA Super Cup, and Club World Cup
Manager: Zinedine Zidane
Goalkeepers: Keylor Navas, Kiko Casilla, Ruben Yañez.
Defenders: Dani Carvajal, Danilo, Raphael Varane, Pepe, Sergio Ramos, Nacho Fernandez, Marcelo, Fabio Coentrao.
Midfielders: Toni Kroos, Casemiro, Luka Modric, Marco Asensio, Isco Alarcon, James Rodriguez, Mateo Kovacic, Martin Odegaard.
Attackers: Karim Benzema, Cristiano Ronaldo, Gareth Bale, Alvaro Morata, Mariano Diaz, Lucas Vazquez.
The defending champions commenced their new season's Champions League journey with a 2-1 triumph over Sporting Cp. They ended the group in the second position with three draws and three wins. 
Round of 16:
Real Madrid faced Napoli in the knockout stage, whom they defeated 6-2 on aggregate with ease. 
Quarter-Finals:
As they reached the quarter-finals, Real Madrid faced one of the most formidable opponents in Europe in the form of Bayern Munich. This match sparked huge controversies in Europe, as decisions made by the referee were inaccurate and favoured Real Madrid.  
However, Real Madrid went past Bayern Munich with a 6-3 aggregate win and reached the semi-final where they contested against Atletico Madrid. 
Semi-Final Stage:
The first-leg saw Real Madrid thumping Atletico Madrid 3-0, but their ecstasy was short-lived, as Atletico Madrid were on the verge of making a comeback when they fired two past Real Madrid. 
Luckily Isco scored a solitary goal to see off Atletico Madrid out of the competition, as they eventually won 4-2 on aggregate. 
UCL Final 2017:
The final stage was set between Real Madrid and Juventus. And it was one of the most challenging games in the Champions League's history.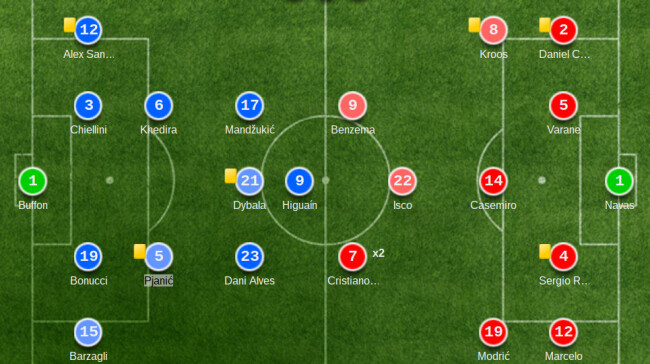 Juventus were at the pinnacle of their playing time, as they had one of the best defences in Europe. Having played 40 games, Gianluigi Buffon kept 27 clean sheets in all competitions. 
Juventus had one formidable defence that Barcelona's trio Messi, Suarez, and Neymar failed to break. 
But this was an easy game for the Spanish giants as they scored four past one of the robust defences in Europe, with Ronaldo netting twice. As Real Madrid prevailed 4-1 against Juventus and defended their title for the second time. 
Real Madrid Squad of 2016-2017: Champions League Stats  
| | |
| --- | --- |
| Played  | 13 games  |
| Wins | 9 |
| Lost  | 1 |
| Points per game | 2.31 |
| Top scorer | Cristiano Ronaldo (12) |
| Top assists   | Cristiano Ronaldo (6) |
| Clean sheets   | Keylor Navas (1) |
Later, the Los Blancos got their hands on UEFA Super Cup by defeating Sevilla 2-0, and next season in 2018, they also conquered the Club World Cup in a 4-2 win over Japanese team Kashima Antlers. 
Sportco believes that this Real Madrid squad of 2017 is one of the deadliest assembled squads of modern European football.