Robert Lewandowski vs Erling Haaland: Profile | Stats Comparison | Playing Style
A new rivalry has ignited this season in the Bundesliga, between the two hottest strikers at the moment in Europe. Sportco brings you an exclusive in-depth comparison between Bayern hitman, Robert Lewandowski and Borussia Dortmund wonderkid, Erling Haaland.
| Player Profile | Robert Lewandowski | Erling Haaland |
| --- | --- | --- |
| Age | 32 | 20 |
| Nationality | Poland | Norway |
| Height (in feet) | 6'00" | 6'04" |
| Weight | 79 kgs | 88 kgs |
| Preferred Foot | Right | Left |
Just like 2020, it seems like even 2021 is going to be a smashing year for Robert Lewandowski. He is leading the Bundesliga charts to finish the 2020-21 season with a record fourth consecutive Bundesliga top scorer award, being just nine goals away from the all-time Bundesliga record of 40 goals with 10 games in hand.
The record has been intact since the 1971-72 season, and hopefully, we will see the Polish cross that mark. However, the Bayern striker does have a genuine competition behind his back. Erling Haaland has been in exceptional form this season. He does have a gap to cover to catch Robert Lewandowski, but the next season could be big for the Norwegian.
Erling Haaland seems to have settled very well, and with young talents like Jadon Sancho and Jude Bellingham around, it may not be another 40 years before we see someone reach the 40-goal mark in the German top-flight.
Robert Lewandowski vs Erling Haaland: 2020/21 Season Stats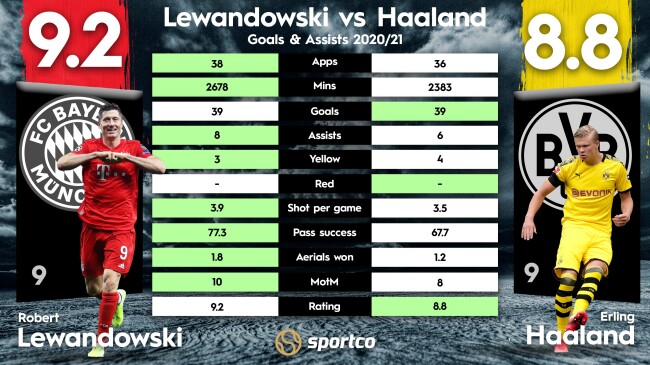 It is easy to guess where we are heading, isn't it? Let's see who has been better so far. As far as goalscoring is concerned, Robert Lewandowski has 31 goals in 24 Bundesliga games this season, a hattrick in the latest Der Klassiker shows how dominant he has been in this season. 
The Bayern Munich number nine has fired 19 times in his last 14 outings and has blanked only on four occasions.
The Borussia Dortmund number nine isn't far behind though, with 19 goals in 19 appearances in the league. At 20, Haaland still seems to carry the attacking threat in every game he plays, and his quick feet make his conversion rate even tougher to cope up. 
Goals per game ratio: 2020/21 Season
However, Lewan'Goal'ski, as things stand, averages a goal every 63 minutes, while Erling Haaland has a goal-per-minute ratio of 84.
Robert Lewandowski marked another accomplishment in Bundesliga's history to have scored in double figures for the 10th successive season and became the first player ever to record it just after five-game weeks. 
Meanwhile, Erling Haaland became the first player in Bundesliga history to fire a treble of goals from the bench.
Erling Haaland vs Robert Lewandowski: Playing Style Comparison 
The above video perfectly analyzes their distinct playing styles and mindset while on the pitch. Where Robert Lewandowski falls short of speed, he prefers to lurk inside the penalty area....even half-a-chance, header, right-foot or left-foot and bang!! Goal for Lewandowski. 
Erling Haaland on the other hand uses his burning pace to join the Dortmund attack. He waits for the final ball before making a darting run behind the last line of defense to unleash his ferocious left-footed shot or chip it over the goalkeeper if it's on his right foot.
When we compare their playing styles of Robert Lewandowski and Erling Haaland, both are tenacious forwards but opposite footed. Both have almost similar numbers when we see their usage of their stronger foot but when we compare their aerial prowess, it is the Polish who has been more efficient, with four-headed goals compared to Haaland's one. 
What's interesting is Erling Haaland is taller than Robert Lewandowski by four inches yet, the Bayern striker has proven that positioning and placement play a vital role too.
Lewandowski vs Haaland Form: 2020/21 Season
When we compare their performances in the opening 20-30 appearances in the top-flight, Lewandowski only had five goals to show, while Haaland has the bragging rights here with 30 goals in 33 displays.
However, when we compare their form since the start of this season, Lewandowski has maintained his class with a 73.7% conversion rate compared to Haaland's 43.1%.
Robert Lewandowski also has better numbers when we talk about accurate passes, key passes, etc. All of these numbers need to be backed up by the 'eye test' too, and there are no doubts about the fact that Erling Haaland may have an edge when it comes to scoring quick goals, but overall it is Lewandowski.
However, Erling Haaland has the kickstart that Robert Lewandowski didn't, and probably when Haaland becomes of the age of Lewandowski currently, there is a big chance that Haaland may be ahead of the Polish in every way.