Sportco Premier League Legends Series: Roy Keane
Roy Keane has been an enormous figure for every team he has represented throughout his career, but none more than at Manchester united. One of the most ferocious leaders of Irish and English football. 
The former Manchester United captain was the latest player to be inducted into the Premier League Hall of Fame 2021. 
| Player Profile | Roy Keane |
| --- | --- |
| Date of Birth | 10th August 1971 |
| Nationality | Ireland |
| Height | 5'10" |
| Playing Position | Center-Midfield |
| Skills | Ferocious Tackles, Leadership |
| Preferred Foot | Right |
How it Began
Roy Keane represented Cobh Ramblers in 1989-90 before he moved to Nottingham Forest. At Forest, Keane was under the managerial eye of Brian Clough. 
The young Irishman's performances for Nottingham Forest were catching the eye of few Premier League clubs too. Kenny Dalglish, manager of Blackburn Rovers at that time, was the first to contact Roy of a possible move to the Lancashire club. 
Roy Keane had a release clause in his contract with Forest wherein he would be allowed to negotiate his transfer with other suitors if Nottingham Forest were relegated from the Premier League. 
However, due to some incorrect paperwork done by Blackburn Rovers for the transfer, Sir Alex pounced on the opportunity and asked Roy if he wanted to join Manchester United. 
After the 1992-93 season, Keane signed for the Premier League side Manchester United for a transfer fee of £3.75 million, a British transfer record at the time.
It didn't take much time for Roy Keane to establish himself as a first-team regular at Man United. Keane was also helped with the emergence of the 'class of 92' which included David Beckham, Ryan Giggs, Paul Scholes, Nicky Butt, and the Neville brothers coming up the ranks from the Manchester United academy.
After the unexpected retirement of Eric Cantona, Roy Keane was handed the club captaincy at Manchester United.
There were a lot of similarities in the both, Sir Alex and Roy Keane, both were a personality inside the dressing room, were ruthless with their actions, and shared a similar hunger and desire to win.
Keane developed an intense rivalry with their arch-rivals and Arsenal skipper, Patrick Vieira. The rivalry between Manchester United and Arsenal during the time of Roy Keane and Patrick Vieira is still glorified and missed at the same time in today's time.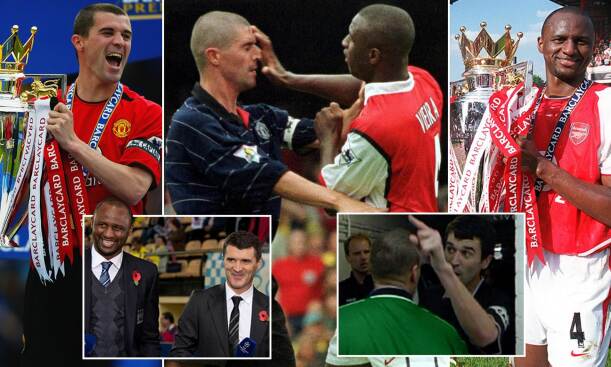 After spending 12 years in Manchester, Keane moved to Celtic for the final season of his career as a football player.
International Career
Roy Keane was the skipper of the Ireland side for most of his career. He led the side in the 1994 FIFA World Cup, where he appeared in every game. 
However, the 2002 World Cup did not go as planned because of a tussle between Keane and national coach Mick McCarthy, resulting in Keane getting dropped from the Ireland squad.
The Irishman made 67 appearances for his nation and scored nine goals. Putting the numbers aside, Keane's presence on the pitch was enough to intimidate the opponents.
Roy Keane: Statistics
Roy Keane was a box-to-box midfielder and goal scoring was not his prime motive. However, Keane found the net on occasions when the rest fell flat.
Keane scored two goals for Cobh Ramblers. Over three seasons, Keane scored 33 goals in 154 displays for Nottingham Forest, while he scored 51 goals for Manchester United in 471 appearances. Roy Keane also appeared on the score sheet once for Celtic in the Scottish Premier League.
| Clubs | Matches | Goals |
| --- | --- | --- |
| Nottingham Forest | 72 | 15 |
| Manchester United | 471 | 51 |
Roy Keane: Style of Play
Roy Keane was renowned for his aggression and dedication on the pitch. He was a born leader for Manchester United, commanding nature, and his competitiveness is something you don't see nowadays. His temper was questionable on days, but mostly it was also the biggest reason why Manchester United achieved so much. 
He won the ball, he was tenacious, his positioning was exquisite, and his shooting was above par as well. However, what makes Keane the legend and a serial winner is his attitude towards the game, Keane's mentality was that of an elite level player as he never liked losing.
"I don't believe skill was, or ever will, the result of coaches. It is a result of the love affair between the ball and the child." - Roy Keane
Managerial Career
Roy Keane, after retirement, returned to football as a manager of Sunderland in 2006 and he showed his coaching skills by boosting Sunderland from 23rd position in the Football League Championship to win the division title, eventually gaining promotion to the Premier League.
He then took over Ipswich Town in 2009 but despite strengthening their squad, Keane's side finished 15th in the Championship, far away from a promotion. After another season, Ipswich dropped to the 21st position which ultimately brought the end of Keane's time at the club.
Two years later, in November 2013, Roy Keane was assigned the assistant position of the Irish national team. Keane then became the Aston Villa assistant manager as well.
Roy Keane's book was released in 2014 and some saw it as an unusual thing for an assistant manager to do as the Euro 2016 qualifier were lined up. However, Keane got support from Martin O'Neill who was the Ireland boss.
Roy Keane had already quit his Villa job to focus more on his national side and finally, the former Man United captain left the job of the Ireland assistant manager as well in 2018.
Roy Keane Major Honors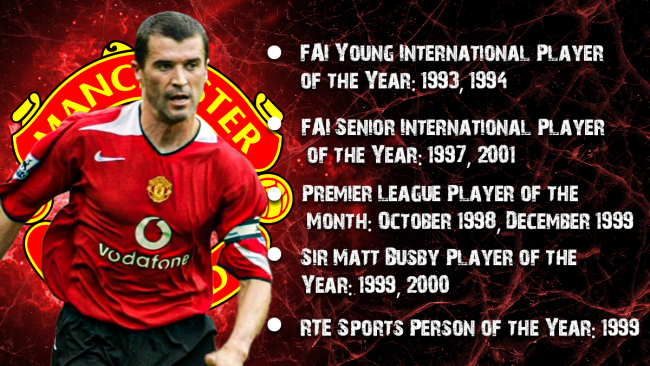 ✬ Premier League: 1993–94, 1995–96, 1996–97, 1998–99, 1999–2000, 2000–01, 2002–03
✬ FA Cup: 1993–94, 1995–96, 1998–99, 2003–04
✬ UEFA Champions League: 1998–99
✬ Scottish Premier League: 2005–06
✬ Scottish League Cup: 2005–06
✬ PFA Team of the Year: 1992–93 Premier League, 1996–97 Premier League, 1999–2000 Premier League, 2000–01 Premier League, 2001–02 Premier League
✬ PFA Team of the Century: (1907–2007)
✬ Team of the Century 1997–2007
✬ Overall Team of the Century
✬ FAI Young International Player of the Year: 1993, 1994
✬ FAI Senior International Player of the Year: 1997, 2001
✬ Sir Matt Busby Player of the Year: 1999, 2000
✬ RTÉ Sports Person of the Year: 1999
✬ FWA Footballer of the Year: 2000
✬ PFA Players' Player of the Year: 2000
✬ Premier League 10 Seasons Awards: (1992–93 to 2001–02)
✬ English Football Hall of Fame: 2004
✬ Premier League 20 Seasons Awards: (1992–93 to 2011–12)
✬ Premier League Hall of Fame: 2021
As a manager
✬ Football League Championship: 2006–07
✬ LMA Championship Manager of the Year: 2006–07
Do check out our earlier Premier League Legends player profiles which include Thierry Henry, Alan Shearer and Frank Lampard.