The Tale & struggles of Simone Biles
Aged 24, four feet, 8 inches tall, and already holder of four Olympic gold medals are feats we usually don't associate with Olympians as young as Simone Biles.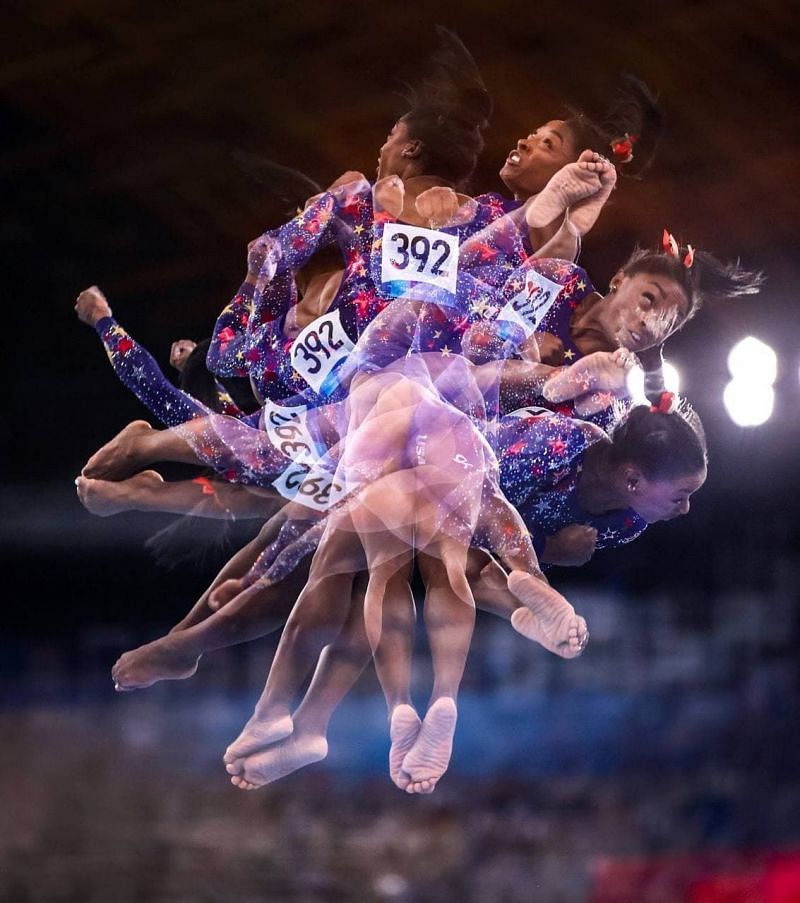 Simone Biles' Childhood And Life At Foster Care
Simone's tale is set in the United States of America, in the town of Columbus, Ohio where she was born on the 14th of March 1997. 
That day truly witnessed the birth of a sports champion who would lead the new generation of young athletes to not just give off astounding performances but also teach them the importance of prioritizing themselves above all.
Simone Biles had an eventful childhood laced with the good, the bad, and the ugliest. At a young age, barely six years old, she had to go through the unpopular American foster care system with her three siblings, Ashley, Tevin, and Adria.
This came after a group of concerned neighbors alerted Social Services to come to the rescue of Simone and her siblings following their mother's negligence to cater for them properly. 
According to Simone Biles, her dad left them when she was very young, and her mom struggled with alcoholism and drug abuse. This was at its extremities when she revealed how her mom preferred feeding her stray cat to them.
Fortunately, the siblings were put into foster care and miraculously had the same foster home. Simone described it as 'lucky' since it was always a slim chance to end up in the same foster home with not just one but all three of your siblings. She recalled running to her brother Tevin's room at midnight because she was scared he might disappear when she woke up the next morning.
Their lucky stars shone even brighter and this time, the siblings were adopted out of foster care but had to be separated. Simone Biles was adopted by her grandparents, Nellie and Ron Biles together with her younger sister Adria and they lived in Texas. Her older siblings, Ashley and Tevin, were adopted by their great aunt Harriet who lived in Ohio.
Simone called Nellie and Ron her mom and dad and attributed who she was as an athlete to their effort.
Simone Falls In love With Gymnastics And Makes Major Sacrifices
Simone was six when she moved in with her parents and one day, on a playdate, she discovered what would make her scale above height and be America's greatest gymnast of all time. 
She saw a group of girls tumbling and flipping on trampolines and fell in love with the sport. She began copying them and became so impressive at it that coach Aimee Borman wrote a letter asking for her parents' permission to allow Simone to join her class. They accepted and that was the first major step on her journey to be an enigmatic gymnast.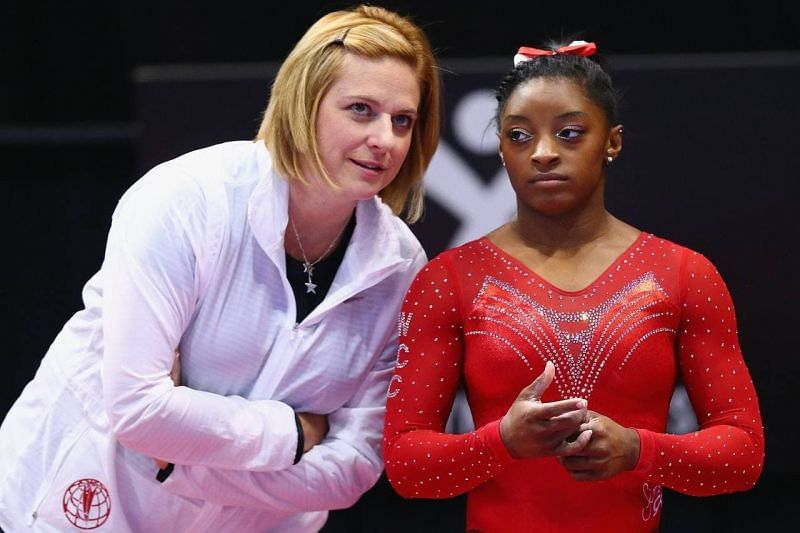 ​Coach Boorman would go on to train her at the 2016 Rio Olympic games. Being a success at the sport was imminent but a gruesome catch influenced her journey as an athlete. The gymnast said her daunting childhood set her up "for a better route at life"
"I feel like I wouldn't be where I am unless that turning point happened" she added on her Simone vs Herself series on Facebook. She gave up public school at age 14 when she realized she wanted to take gymnastics seriously. She sacrificed all the prospective adventures of her youth to chase her dream.​
​After contesting in a series of junior elite competitions, Biles made her senior debut in 2013 at the U.S. National Championship, where she won gold at the all-around apparatus and achieved the same feat at the World Championship games as well. 
She defended her titles in 2014 and 2015 but 2016 was her launchpad to reach the galaxy of Olympic stardom and shine brightest amongst the world-class gymnasts.
In 2016, she made her Olympic debut at the Rio 16 Games. She delivered a salient array of performances at the gymnastics event and walked away with a record of four gold medals in four apparatuses including vault, floor, all-round and team. She took bronze in the balance beam event.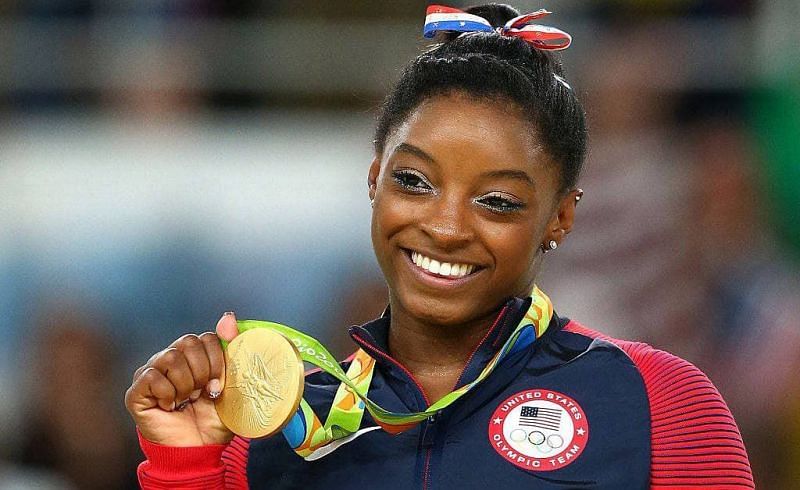 ​Unfortunately, shortly after her staggering performance at the Olympics, Russian hackers revealed she took prescription medication, Ritalin, banned by the World-Doping Agency. Biles defended herself in a Twitter post where she revealed she was permitted to take the drugs because she has Attention Deficit Hyper Deficiency (ADHD). US Gymnastics backed her defense and confirmed she had obtained all the necessary permits to take the drugs.
Simone Biles takes a break
In 2017, she didn't compete at all, saying her body needed to be rested. She took advantage of her free time to try new horizons in the entertainment industry. 
She co-wrote an autobiography which was developed into a TV-show biopic and contested in Dancing With The Stars (the US version of Strictly Come Dancing) where she placed fourth.
In 2018, when the #MeToo movement had gained a firm renaissance, Biles disclosed how she was sexually abused by the USA gymnastics physician Larry Nassar. 
According to her, when it happened, she lived in denial and asked herself so many questions and wondered if it was her fault. Her mom, Nellie, tried approaching Simone about the whole issue but she got defensive and angry on every occasion. 
Simone revealed that it was when she was in her car driving that the hard reality crept in. She completely broke down and called her mom to fully disclose it to her
"She was just hysterical," Nellie told the Facebook series Simone vs Herself.
"She didn't say anything, she just cried and we cried together because I knew what it was she wanted to talk about. She didn't have to say anything". 
The reality that struck Simone took a toll on her and left her depressed. She slept a lot to escape reality. "Sleeping was the closest thing to death for me, so I slept all the time"
Over 330 women and girls accused Nassar of rape, including her Olympic teammate Aly Raisman, and he was sentenced to 300 years imprisonment. Simone also said if she ever had a daughter, she would never allow her to train with USA Gymnastics.
Simone's Rio 2016 Dominance And Her Brother's Conviction
She returned to gymnastics in 2018 and made another resounding statement by winning the All-round US National title and the World Championship title in Qatar despite having Kidney Stones which she named "Doha Pearls" 
Simone Biles defended both titles in 2019 and became the World's most skillfully embellished gymnast of all time by snatching her 25th medal. 
She has three skills named after her which include the Biles on Beam, Biles on Vault, and Biles II on floor. She is the sole gymnast to have performed any of these skills in a FIG International competition.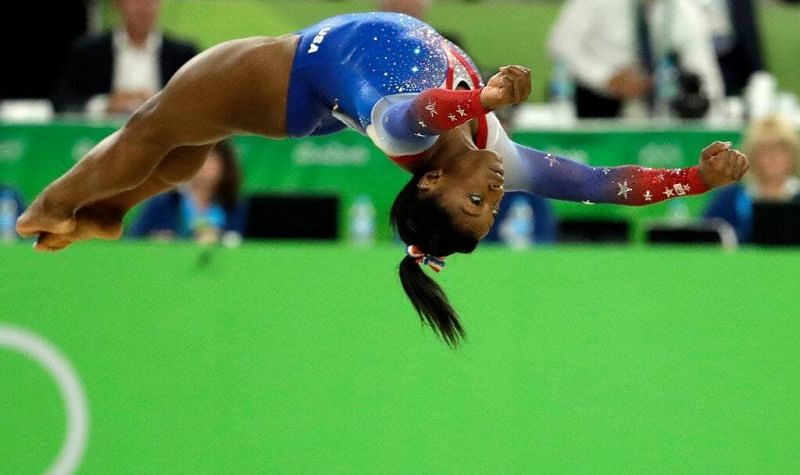 ​Amidst her victory, her brother Tevin-Biles Thomas was charged with the murder of three people. This happened in Cleveland at a New-year's Eve house party and two people were injured in the process. 
During the unfortunate tragedy, Simone expressed her heartfelt condolences to the bereaved families of the victims involved in a Twitter post. Tevin, however, was acquitted of all charges last month after the judge said prosecutors had insufficient evidence to convict him, NBC news reported.
​Her Mental Health Crisis Manifests At Tokyo 2020
In 2021, she won her seventh All-Round title at the US National Championships before qualifying for the Olympics. 
Before arriving for the Olympics, Simone was aggravated with the fact that her parents would miss her Tokyo Olympics since they have attended every one of her games. 
In the gloom of COVID 19, Biles was forced to perform without her parents in the stands cheering and jeering her on.
"I'm kind of nervous I might freak out over that," Biles said before the Olympics.

"I don't feel set and comfortable until I find where they are in the crowd" she added.
​At the Tokyo Olympics, expectations were high for Simone Biles as she looked forward to defending the titles she won at Rio16. That would have made her the first woman to have achieved that since the 1968 Olympics in Mexico.
On the first day of the Olympics, Biles was quite shaky and made several uncharacteristic stumbles together with her teammates. 
The Russians capitalized on that to gain more points ahead of their opponents. Despite the jolty start, Biles booked her ticket to the finals of all four apparatuses. 
It was in this light that she opened up about the immense pressure she was feeling. 
"I truly feel I have the weight of the world on my shoulders at times" she disclosed on Instagram. 
Team USA later announced she was pulling out of the event on grounds of medical issues.
Biles later revealed that she opted out to protect her mental health.
"After the performance I did, I just didn't want to go on" Simone Biles said.

"I have to focus on my mental health. I just think mental health is more prevalent in sports right now…we have to protect our minds and our bodies and not just go out there and do what the world wants us to do"

"We're not just athletes, we're people at the end of the day and sometimes you have to step back"

Simone reacts after her decision to withdraw from the team finals at Tokyo Olympic games
The Russian Olympic Committee went on to win gold in the final, with the US taking silver. After withdrawing from the individual all-around event, Simone is considering whether she wants to take any further part in the Olympics.
She is currently in a dilemma as to whether to retire after the Tokyo games or possibly continue to Paris 2024. Her French trainers, Cecil and Laurent Landi, however, coerced her to give it one more shot at Paris but she hasn't made a decision yet.
To numerous fans, pundits and critics, Simone has already cemented herself as the most mercurial gymnast in the world and that highlights her incredible work ethic as an athlete and even more so at such a young age.