Sportco's Motivational Olympic Stories: Karoly Takacs: The Hungarian Sharp Shooter
The Olympics has had a rich heritage of inspirational stories of struggles, patience, perseverance. We wind the clock back to narrate one such tale of sheer determination and focus of a man and his dream of winning gold at the Olympics. 
Olympic's Greatest Heroes: Karoly Takacs 
Back in 1938, there was a man in the Hungarian army named Karoly Takacs. He was regarded as the best pistol shooter of his country.
Karoly Takacs had won most of the major national and international pistol shooting championships during his era. Hence, he was Hungary's main hope for the Gold medal in pistol shooting at the 1940 Olympics in Tokyo. 
Karoly had always dreamt of winning the Gold medal in pistol shooting for Hungary. But all his dreams turned to dust one day. In 1938, in an army training camp, an unfortunate accident occurred, a hand grenade exploded in Karoly's right hand, his shooting hand. 
That hand grenade not only injured his right hand very badly but also destroyed his dream of a shot at the 1940 Olympics. 
Switching to his wrong hand
After the unfortunate accident in the army camp, one would have thought that Karoly Takacs would never be able to fire a pistol, however, the Hungarian never gave up on his dream and continued practicing secretly.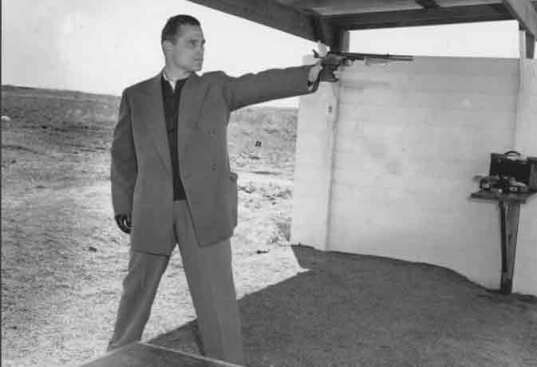 In 1939, Karoly Takacs went to a national shooting championship in his country. His colleagues were delighted to see him and complimented his courage to come and cheer for them. Karoly replied to them that he did not come here to cheer for them but to compete with them. 
Karoly Takacs had been practicing pistol shooting for one year with his left hand, and being a badass, he won that shooting championship against his colleagues.
The Hungarian was very much focused on becoming the best pistol shooter in the world by winning gold at the 1940 Tokyo Olympics. However, the 1940 Olympics were abandoned due to the start of World War II in Europe. 
Karoly didn't lose hope. He targeted the 1944 Olympics as his dream year, but more misfortune was in store for Karoly as the 1944 Olympics were canceled as well due to the War. 
There seemed no light at the end of the tunnel for Karoly Takacs' dream. But he continued practicing with his left hand and hoped to represent his country at the 1948 London Olympics. 
1948 London Olympics
By 1948, Karoly Takacs was 38 years of age, and it seemed hard to compete with the young players at the shooting event. 
The best shooters from all over the world were competing with their preferred hand, whereas Karoly was competing with his left hand. 
However, against all odds, he beat all other shooters at the event with his wrong hand and won a gold medal in the 25m pistol shooting event at the 1948 London Olympics.
Karoly didn't stop there and competed in the 1952 Olympics in Helsinki, and added another gold medal in the 25m pistol shooting event to his previous gold medal in the 1948 Olympics.
Post Olympic Career
After his shooting career, Karoly Takács became a coach. He trained fellow Hungarian Szilárd Kun, who won the silver medal at the 1952 Summer Olympics. Takacs ended his army career as a lieutenant colonel.
Karoly's inspiring story has given him a place among the "Olympic heroes" of the International Olympic Committee.