Tottenham vs Chelsea: Match Preview | Tactical Analysis | Key Battles
We are now moving into matchday 5 of the Premier League with the standout fixture of the round being the massive London derby between Tottenham Hotspur and Chelsea. 
It would be interesting to see the battle between two potential golden boot candidates for this season, Harry Kane and Romelu Lukaku.
Let us take a detailed look at the preview, how their styles have been so far, what might be the lineup, and much more. 
Tottenham vs Chelsea: Match Preview
As of now, Chelsea sits in the 2nd position of the Premier League table and Tottenham moved down from the 1st position to the 7th position after their loss against Crystal Palace. 
This would be a huge game for Tottenham in attempts to gain a few positions. Tottenham's approach has at times looked flawless but in their last game, there were many holes in their game. Their lack of possession meant a lack of control on the game, especially while attacking.  
On the other hand, Chelsea has come out all guns blazing with the addition of Romelu Lukaku to their forward line. They have played amazingly, only looked a bit wobbly against Liverpool in the second half but they managed to walk away with a point. 
Throughout the opening half of the season, Tottenham has looked extremely slow in the attack and laid back in the defense. It's almost as if they wait for the opposition to make a mistake before making a move. Their opening 3 games were also only a 1 goal victory, before being humbled by Crystal Palace in the 4th week of the Premier League. 
Tottenham will need their midfielders to produce quality chances for their elite attackers, Son Heung-min and Harry Kane. Even though Son has been injured for a while but sources have said that he is likely to return against Chelsea.  
If Son plays, he will surely be a tough job for the Chelsea defense, this will let a little pressure off from Harry Kane. 
Chelsea has been in attack mode all season long so far. Whether you talk about build-up plays or counter-attacking football, they have been world-class in all. 
They rely on combinations inside the defensive third of the opposition before opening up a player on goal. 
Lukaku being in red hot form has also helped them a lot. Their wingbacks are heavily involved in the attack, helping the central midfielders to create open themselves. 
Tottenham vs Chelsea: Predicted XI
Tottenham Hotspur possible starting lineup:
Lloris; Emerson, Sanchez, Romero, Reguilon; Hojbjerg, Skipp; Gil, Alli, Son; Kane
Chelsea possible starting lineup:
Mendy; Azpilicueta, Christensen, Rudiger; James, Jorginho, Kovacic, Alonso; Mount, Havertz; Lukaku
Tottenham vs Chelsea: Key Matchups
Romelu Lukaku vs Cristian Romero 
The Argentine got himself a contract from Tottenham after an impressive Copa America this summer. Eric Dier is likely to be out due to injury, and Tanganga is unavailable for this game because of suspension, hence, Cristian Romero is likely to start in defense. 
Playing in the central defense means that he would have to contain the Belgian striker through the 90 minutes. Cristian Romero might look small compared to Lukaku but the boy is a warrior and will give Lukaku a tough time whenever he goes up against him. 
Romelu Lukaku has shown a lot of improvement in his ball control and finishing, adding onto his beast-like physicality, only a few defenders will be able to tame this beast.
Andreas Christensen/Thiago Silva vs Harry Kane
Harry Kane was rumored to leave this summer but stayed after giving his commitment to continue for Tottenham a little longer. We expect Christensen to start for Chelsea as he does in big games. 
Harry Kane's positioning inside the attacking third is one of the best in the world, so it would be hard for Christensen or Thiago Silva, depending on who starts. 
Adding onto it, Harry Kane is always looking for a shot outside the box and no defender would want to risk someone like Kane to keep pulling for open shots from a distance. 
Christensen was one of the best defenders in the UEFA Champions League last season for Chelsea and also at Euros for Denmark, and that says a lot about the young defender. 
He is good with man-marking and positions himself well whenever the opposition has the ball. Christiansen is always aware of the counter-attack from the opposition and does well in defensive transitions as well.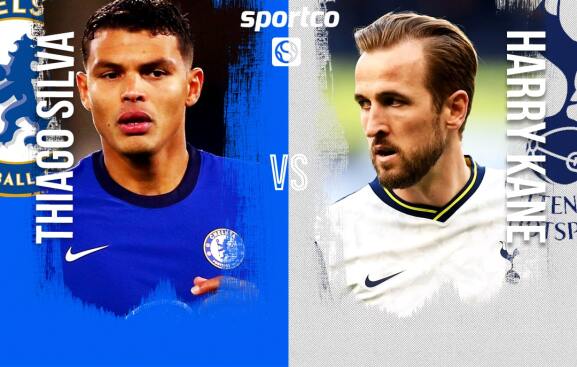 If Thiago Silva starts, then Harry Kane might try to exploit the defense using his speed and physicality. 
Thiago Silva is your classic center-back, relying heavily on tackles and anticipations. However it is, Thiago Silva is always a threat in set-pieces as well so that'll be fun. Meanwhile, we are sure he'll do a good job in defending Harry Kane inside the box and in close contact. 
This is going to be an interesting battle between young defenders and experienced attackers on both ends.