Antonio Conte: Manager Profile | Tactics | Formation | Style of play | Stats | Record
Antonio Conte has transformed many clubs into a powerhouse of Europe by taking charge of them. 
The Italian has managed some top clubs including Juventus, Inter Milan, and Chelsea and has tasted ultimate success with them. 
His philosophy has turned a decent player into a top player, along with his ability to manage players is immaculate. Conte's tactics have always delivered fruitful results, as Chelsea, Juventus, and Inter are testament to it. 
He was appointed when they were struggling to win games., his appointment saw clubs returning to winning ways and also winning titles.
The Lecce-native tactician is the most sought manager and is rumored to join Manchester United. How will Antonio Conte implement his tactics once he joins the Red Devils? Let's take a look. 
Antonio Conte Tactics and System of play
The former Inter Milan manager has primarily used a 3-1-4-2 or 3-5-2 system throughout his time at Inter, Juventus, and Chelsea. In this system, wing-backs play a huge role in dictating the game and it has practically become synonymous with his name. 
Conte tactics is to use a mix of experience and youth which helps in better understanding of players in games. As players thrive in their position, this tells a lot about how Conte nurture players under his management. 
Now let's take a closer look at how Antonio Conte executes his tactics and how player fulfil their roles. 
Dynamic counter-attack at Chelsea, Juventus, and Inter 
Antonio Conte has managed some greatest strikers in his time at these clubs. The success of these clubs is a phenomenal counterattack and over-arching attacking presence in the final third. 
Conte's team might be having few shots on target, but no team in the league other than Conte's scores more goals. 
This means Conte utilizes his forwards as much as he can so they can convert their chances and make the most out of their attacking play. 
In his system the team players don't shoot from distance they tend to play inside the box so the strikers can convert the ball from the eighteen-yard box.
They play in tandem, you will see very selfdom player will go 1v1 against a player, they will mostly split defense by through balls to the pacy wing-backs. 
The Lecce-native tactician prefers a collective approach instead of individual brilliance, as most of their counterattacks are a collective approach. 
Possession-Oriented Football
Under Conte the team focuses on possession-based games, they play short and one-to-one passes to open up space. Instead of direct football with long passes, the team engages in the build-up, to open up pockets of spaces and create overloads.
This system of play has helped teams in creating chaos for oppositions as it tires them in chasing the ball which makes it even more simple for players to execute the plan. 
During the build-up phase, the back-three will often rotate the ball right to left, looking for a chance to play in the two-sitting defensive midfielders. 
The best part of Antonio Conte and his tactics is they keep opening up spaces even if movements certainly are anything as it helps in maintaining possession resulting in unusual attacks. 
Conte implements this same method during counter-attack as one striker drops deep to play a quick one-two and the other remains high and wide to receive the long-pass or through-ball at end of a cross.
Diligent wing-backs and wide overloads
Wings-backs play a huge role for Antonio Conte to implement his tactics successfully. They help in the build-up and create huge amounts of space during the attacking play. 
The pace of the wing-backs also plays a key role in surging up the field at speed, vital to the counter-attack, and paramount to the team's ability to score more goals.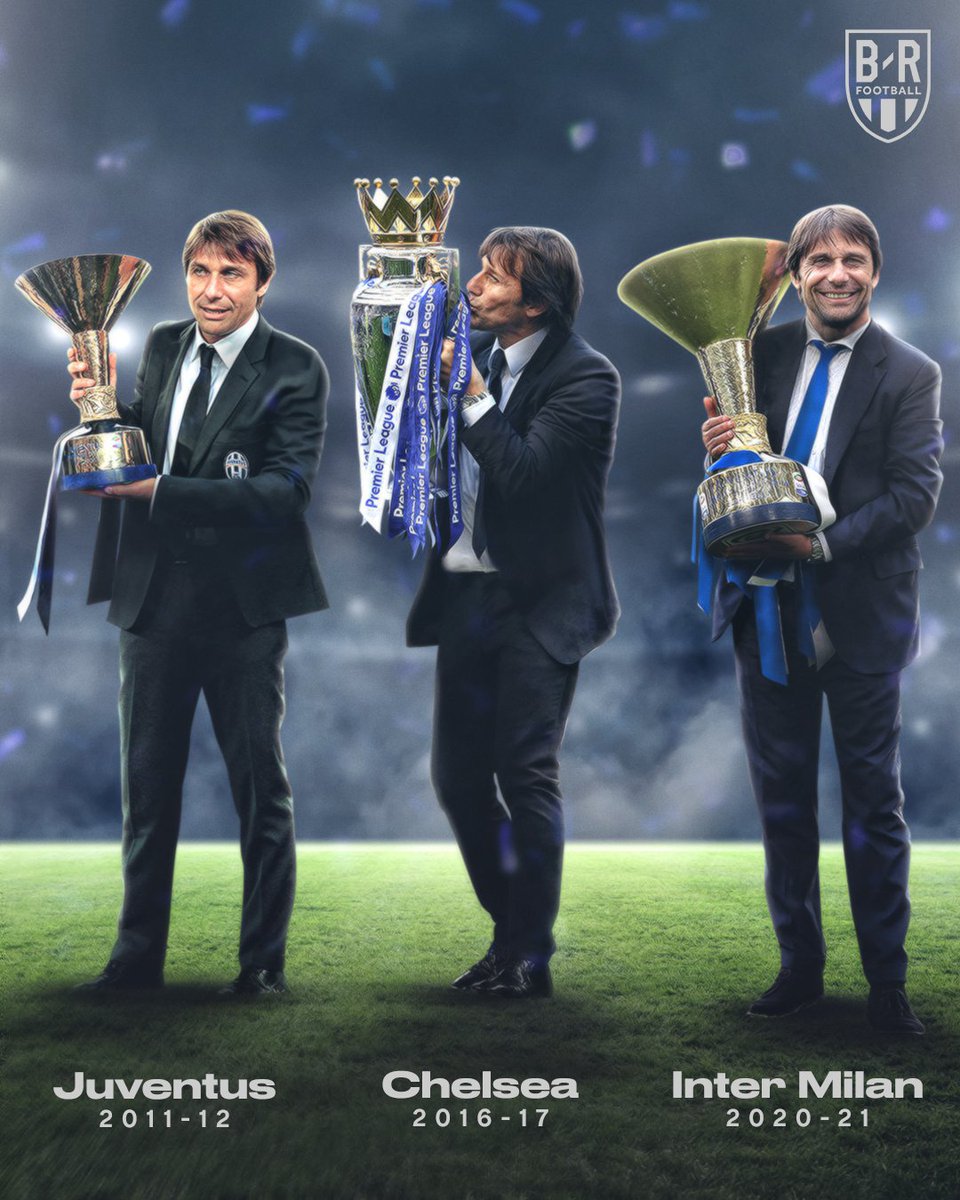 In his 3-5-2 formation, this maintains frequency to wing-backs advancing high up the pitch before delivering accurate crosses in the box as it becomes a regularity for the wing-backs. 
The wing-backs are tended to play two roles, attacking and defensive roles. As we know under Antonio Conte what their job is during attacks. 
However, at the time of defending they help the team to win back the ball in wide areas when they lose possession, as Conte chooses agile wing-backs who reach the ball before the opponent player. 
Their planning is to play with composure in close proximity between the lines so they can flourish in quick defensive transitions. 
Antonio Conte: Managerial Record
| Club | Matches | Won | Draw | Lost | Win % |
| --- | --- | --- | --- | --- | --- |
| Juventus | 151 | 102 | 34 | 15 | 67.55% |
| Italy | 25 | 14 | 7 | 4 | 56% |
| Chelsea | 106 | 69 | 17 | 20 | 65.09% |
| Inter Milan | 102 | 64 | 23 | 15 | 62.75% |
The Italian is a serial winner wherever he goes. Conte has enjoyed a win percentage of more than 60% at all the top clubs he has managed in the last 10 years.
Conclusion 
Antonio Conte implemented his tactics and churned up fruitful results with Chelsea, Juventus, and Inter Milan, and at the moment he is a free agent and many big clubs will want his signature. 
However, he has shown his keenness in managing Manchester United. So, it will be interesting to see him moving to Old Trafford and how well he will accomplish his strategy with Manchester United players.