Sportco Euro Classics: England vs Iceland: Euro 2016
One of the biggest upsets in the history of International football, 27 June 2016 was one of the worst days for England and its supporters. Sportco presents another epic of the Euro Classic Series.
And make no mistake, their foes on the day were no Germany, France, Brazil, or Belgium, it was Iceland who sent shock waves to the entire nation in the Round of 16 of the competition.
Ridiculed by pundits all around the world, the Euro 2016 was something England would never be able to erase from their memory. 
After more than 65 years, England witnessed another dark day in their sporting history after they were knocked out by the United States in the 1950 World Cup.
Iceland showed that even though they were very fragile on paper, all they needed was passion, dedication, hard work, and a perfect plan to vanquish the English.
Let's have a look at the lineups.
England Starting XI: (4-3-3)
Joe Hart in goal, Kyle Walker, Gary Cahill, Chris Smalling, and Danny Rose made the backline for England. Manchester United legend Wayne Rooney led the line from the midfield alongside Eric Dier and a young Dele Alli who had been remarkable in the recent domestic season.
Harry Kane played centrally, while Raheem Sterling and Daniel Sturridge started from the left-wing and right-wing respectively. Roy Hodgson was the England boss at that time and was under tremendous pressure due to his side's poor display in the initial stages of the tournament.
Iceland Starting XI: (4-4-2)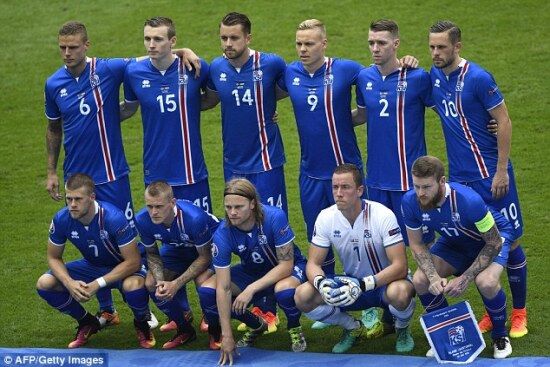 For Iceland, Hannes Halldorsson started in goal, Birkir Mar Sævarsson, Kari Arnason, Ragnar Sigurdsson, Ali Freyr Skulason, Johann Berg Gudmundsson, Gylfi Sigurdsson, Aron Gunnarsson who was the skipper, Birkir Bjarnason, Kolbein Sigthorsson, and Jon Bodvarsson. Heimir Hall Hallgrimsson was the Iceland boss during the tournament.
England vs Iceland: Key Moments
The game had a blistering start and it seemed that England were there to rectify their fallacies as Raheem Sterling won a penalty for his side after a clumsy challenge by the Iceland stopper. 
Minute 4' (Goal! England 1-0 Iceland)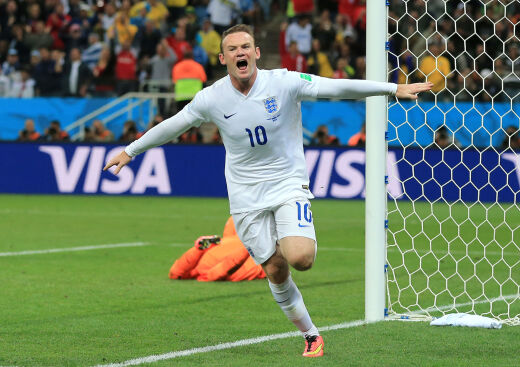 Wayne Rooney converted the spot-kick successfully into the bottom left corner and England got the lead inside five minutes (4th minute).
Minute 5' (Goal! England 1-1 Iceland)
However, Iceland did not back down and had an instant reply ready as the centre-back Ragnar Sigurdsson restored parity for Iceland. 
It was a long throw-in by Aron Gunnarsson, and Sigurdsson pounced on the opportunity as it arrived with Walker reacting late to it. It was the sixth minute when Sigurdsson slotted the ball from the edge of the six-yard box as Joe Hart failed to put it out of England's goal.
Minute 19' (Goal! England 1-2 Iceland)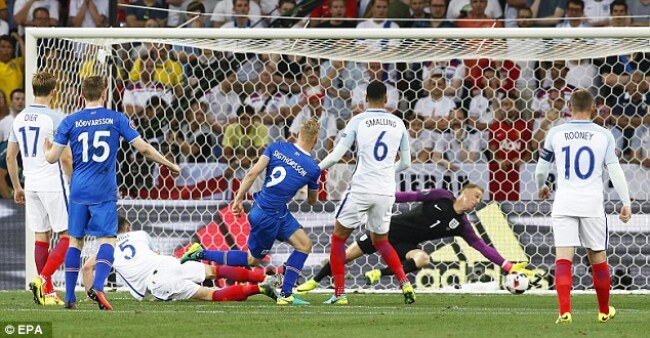 After a passage of English dominance in the Iceland box, Iceland produced another beauty as Kolbein Sigthorsson fired it past Hart once again, with the keeper mishandling another shot that could've been averted with ease.
Minute 28' (Kane's effort)
England trailed by a goal after taking a lead earlier on. Ten minutes later, Harry Kane attempted to find the net but was met with the safe hands of Halldorson who put the ball over the bar. 
England had the majority of the ball but the clinical presentation was missing. The tempo had risen but nothing seemed promising by the time the ball arrived in the Iceland box. 
Second Half
After a noisy first half, it was anticipated that England would come out stronger, but it was Iceland who played more direct football and almost doubled their advantage.
Minute 56' (Iceland attempt)
A bicycle shot from the corner of the six-yard box in the 56th went straight into the hands of Hart who thankfully, did not slip it this time.
Jack Wilshere was thrown in by Hodgson in place of Dier in the second half but his presence did not contribute to his team much, and Hodgson had to make another call.
Minute 60' (Sterling off, Vardy in)
Jamie Vardy was introduced just at the hour mark as he replaced Sterling. Vardy tried to unleash himself as well but Ragnar Sigurdsson timed an astonishing tackle to keep Vardy at bay.
Minute 79' (Kane header)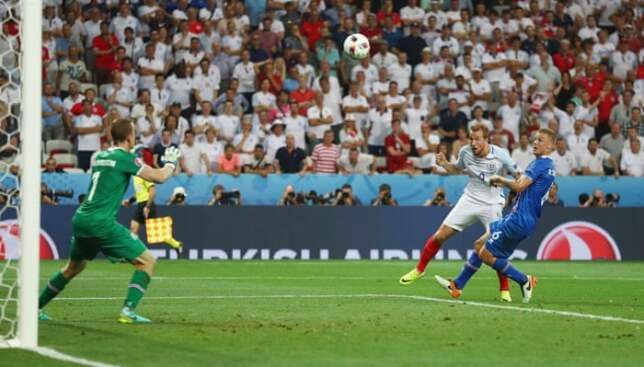 After another attempt on target by Kane, this time a header. Iceland scorer Sigthorsson was replaced by Elmar Bjarnason in the 79th minute. 
Minute 86' (Rooney off, Rahsford in)
After nothing going England's way, Marcus Rashford was introduced in the 86th minute to replace Rooney.
Marcus Rashford played like the only threat that Iceland could've had but they were lucky that he was substituted with just four minutes and extra time remaining on the clock.
Rashford penetrated the left flank time and time again but it was just not England's day as Vardy missed a couple of chances, while some were thwarted by a stubborn Iceland defence.
The final whistle blew and twice in a week, England were to exit from Europe, the first being an exit from the European Union four days before the clash. 
Final Whistle: England 1-2 Iceland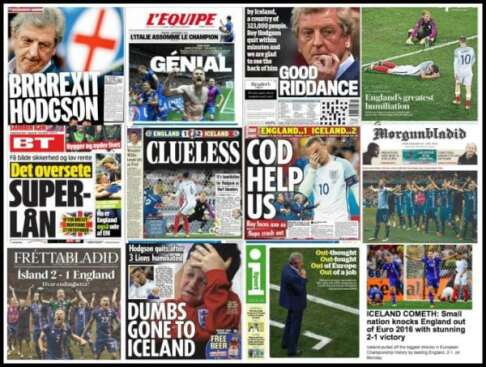 The loss was unbearable and also saw Roy Hodgson's resignation as he was also blamed for England's lack of composure and tactical presence on the field. 
Ragnar Sigurdsson, who scored Iceland's first goal was named the Man of the Match and it couldn't have been a fairytale moment for a player who wasn't even involved for a minute for Iceland but went on to play every single minute of the 2016 qualification campaign, and also found the net for a match-saving equalizer.
England vs Iceland: Euro 2016 Highlights
Iceland played like a team with passion and perseverance, while the England players only had their Premier League wages to boast, the quality on the pitch was absent, and surely, they learned a lesson they would never forget for some time.
Stay tuned for many more classics from Sportco's Euro Classic Series.