Euro 2020 Analysis: Round of 16 Recap | Records | Stats | Quarterfinals Fixtures
The Euro 2020 Round of 16 has lived up to its billing and delivered enthralling matches so far. There have been huffs and puffs in the group stage and knockout games of Euro 2020, a few dark horses and the favorites have made their way into the quarter-finals. 
Round of 16 has delivered unpredictable and fascinating games so far at the Euro 2020. Many underdogs have already sent shock waves across the globe which we have witnessed in the previous games. 
The defending world champions France and reigning European Champions Portugal have been sent packing, which has been called one of the biggest upsets in Euro 2020. 
Without further ado let's recap the round of 16 games with some interesting facts, records and stats at the Euro 2020.
1) Denmark 4-0 Wales: Denmark an inspiration for many underdog teams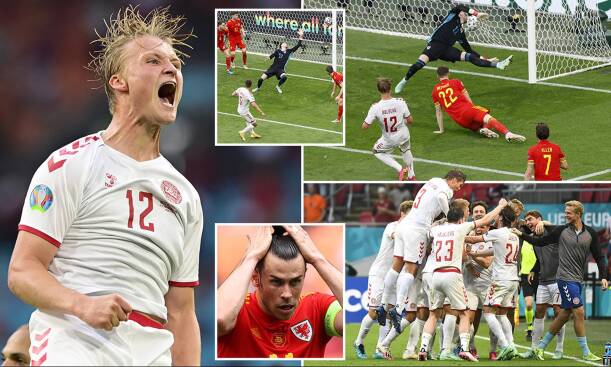 After Eriksen's incident, the Euro 2020 tournament became stoic for Danes and playing any game with that rhythm was the least of their concerns. 
Defying all the odds, Denmark managed to qualify for the knockout stage which was followed by a 4-0 rout to Wales in the round of 16. Denmark's journey has been inspiring at the Euro 2020 since the Eriksen incident.
Euro 2020 Round of 16: Facts, Stats, Records  
- Denmark scored a total of eight goals in two games, which had been done for the first time since they first contested the tournament in 1960.
- Denmark has won the last four of their competitive games against Wales 
- In their last 16 matches Denmark has only lost two, (W11 D2 L3).
2) Italy 2-1 Austria: Substitutes Pessina and Chiesa squeeze Italy past resilient Austria
Italy were the dark horse of Euro 2020. After their performance in the group stage, Italy are now the favorites to lift the Euro 2020. 
However, their real test was against Austria in the Round of 16. Italy had to go into extra-time to eke out a win against resolute Austria, thanks to goals from substitutes Federico Chiesa and Matteo Pessina
Euro 2020 Round of 16: Facts, Stats, Records  
- After 1,168 minutes Italy's formidable defense finally conceded a goal
- Italy have now gone into extra time for the eighth time in a EURO finals match, more than any other team in the competition's history.
- Kalajdzic's goal broke Italy's 11 games' clean sheet record. 
3) Czech Republic 2-0 Netherlands: Czechs cause the first upset of Euro 2020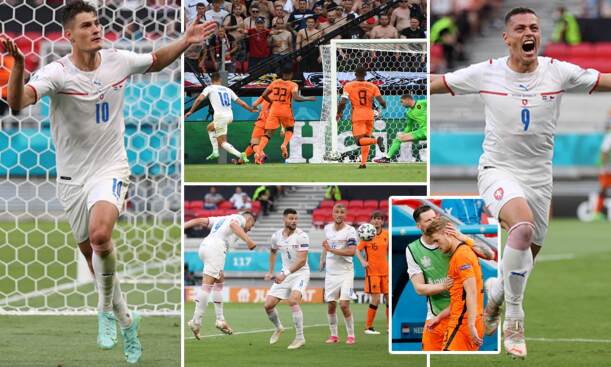 Being a ptential dark horse, Netherlands bowed out of the tournament after a disappointing 2-0 defeat to the spirited Czechs. Matthijs de Ligt's blatant red card saw Czech's hegemonizing the game and taking advantage of the Netherlands' Achilles heel. 
Euro 2020 Round of 16: Facts, Stats, Records  
- Netherlands are yet to defeat Czech Republic since their 2-0 win against Czechs in 2005 FIFA World Cup qualifiers.   
- Czech Republic have won four out of five EURO quarter-finals.  
4) Belgium 1-0 Portugal: Thorgan Hazard stunning strike sent Belgium into quarterfinals 
Thorgan Hazard's solitary goal was enough to send Portugal packing in the round of 16 despite star Kevin De Bruyne being substituted because of an ankle injury, as Belgium didn't let their guards down and kept Portugal's talisman off the score sheet.
Euro 2020 Round of 16: Facts, Stats, Records  
- Belgium have now won 14 games in Euro across qualifying and the finals stages, equalling Germany's and, currently, Italy's record.  
- After Italy, Belgium is the second team to keep most clean sheets (6)
- Pepe became the oldest player to start a EURO finals knockout match. Age- 38 years and 121 days
- After their 1-0 defeat, Portugal failed to score for the first time in nine EURO games.
5) Spain 5-3 Croatia: Struggling Spain dominates resolute Croatia
One of the most mesmerizing games of Euro 2020, the game began with Unai Simón scoring an own goal. 
However, Spain recovered immediately with a 3-1 lead, though Croatia had some other plan. In the closing stages of the game, Croatia managed to score two goals and forced the game into extra time, only to have Álvaro Morata and Mikel Oyarzabal find the net and seal their berth in the quarterfinals.    
Euro 2020 Round of 16: Facts, Stats, Records  
- Spain and Croatia game was the second-highest scoring game in Euro history, after France 5-4 Yugoslavia game in the 1960 semi-finals
- Spain became the first team in Euro history to score five goals in consecutive matches.
- Alvaro Morata's goal against Croatia made him Spain's joint-highest scorer in the competition along with Fernando Torres. Morata has scored five goals in Euros so far. 
- Pedri became the youngest player to start a knockout game in Euro's history, overtaking Wayne Rooney's (18y 244d v Portugal in 2004) record. 
6) France 3-3 Switzerland (4-5 pens): Sommer's save seals the deal for Switzerland 
Switzerland caused the biggest upset in the Round of 16 when they eliminated the defending World Cup Champions in penalties. France were heading into the quarterfinals with a 3-1 win. However, the two late goals restored parity of Switzerland, and the game proceeded into extra time. 
After the extra time stalemate, the unsung hero Yann Sommer denied Kylian Mbappe's penalty in the penalty shootout to make the major upset of Euro 2020.
Euro 2020 Round of 16: Facts, Stats, Records  
- This is the first time France have conceded three goals since their 4-5 win against Yugoslavia in 1960 
- Last time Switzerland progressed past the knockout game before this match in a major tournament was back in the 1938 World Cup. 
- This is the first time France has lost in the quarterfinals of a competitive tournament since 1954
7) England 2-0 Germany: Sterling and Kane's goals booked Southgate men's spot in quarterfinals of Euro 2020
Many pundits predicted this to be an easy win for Germany: however, Southgate's men were well prepared for this game. With Raheem Sterling finding the breakthrough in 75 minutes and Harry Kane's header in 86 minutes got the job done for the three lions. 
Euro 2020 Round of 16: Facts, Stats, Records  
- This was England's first win against Germany in an international knockout game since the 1966 World Cup.
- The 2-0 win was also England's first win at Wembley against Germany since 1975.
- England hasn't lost a game where Raheem Sterling has scored.
- Sterling has scored 15 goals in his last 20 games for England
8) Ukraine 2-1 Sweden: Ukraine needed extra-time to get the job done.
Ukraine vs Sweden game was the second match of the round of 16 which was heading into penalty-shootouts, though Ukraine had other plans when Oleksandr Zinchenko's inch perfect cross met Artem Dovbyk in the area, who headed the ball home in the 121st minute and earned a spot in quarterfinals. 
Euro 2020 Round of 16: Facts, Stats, Records  
- Ukraine have reached the quarterfinals for only the second time in a major tournament, last time they did so in the 2006 World Cup
- Oleksandr Zinchenko was fifth Manchester City player to score at Euro 2020 after Kevin De Bruyne, Raheem Sterling, Aymeric Laporte and Ferran Torres. 
Euro 2020 Stats 
| | | |
| --- | --- | --- |
| Top scorer  | Cristiano Ronaldo (Portugal) | 5 |
| Most assist  | Zuber (Switzerland) | 4 |
| Top Speed | Leonardo Spinazzola (Italy) | 33.8 (Km/h) |
| Distance covered  | Sabitzer (Austria) | 48.7 (Km) |
| Attempts on goal | Ronaldo (Portugal) | 16 |
| Pass accuracy  | Recce James (England) | 99% |
| Balls recovered  | De Vrij (Netherlands) | 38 |
| Tackles won | Stefan Lainer (Austria)  | 14 |
| Saves made by (GK) | Ugurcan Cakir (Turkey) | 18 |
Euro 2020: Quarter-finals fixtures 
| Date  | Fixtures | Venue | Timings  |
| --- | --- | --- | --- |
| O2 July 2020 | Switzerland vs Spain | St Petersburg | 6 pm (CET) |
| O2 July 2020 | Belgium vs Italy | Munich | 9 pm (CET) |
| 03 July 2020 | Czech Republic vs Denmark  | Baku | 6 pm (CET) |
| 03 July 2020 | England vs Ukraine | Rome | 9 pm (CET) |