Japan 3-26 South Africa: Talking points as the Springboks set up a semi-final with Wales
Four years ago, Japan surprised the world of rugby with a 34-32 win over the formidable Springboks in Brighton. The match now immortalized as the "Miracle of Brighton".
Four years ago, the Japanese were unknown entities that upset South Africa. This time out, with a lot of great work done on improving their quality, Japan ceased to be an unknown quantity. Victories over Ireland and Scotland had made them legitimate threats, and the Boks were prepared.
Rassie Erasmus' team defeated Japan, 26-3, to set up a semifinal meeting with Wales.
The Springboks overcame the hosts in a 50,000 strong Tokyo stadium, where the majority of cheers were for the Brave Blossoms.
The visitors utilized their superior size and strength to neuter Japan's pace, in both departments.
The game's opening points, in fact, came via a South Africa dominated maul in the fourth minute. The Springboks neutralized Japan's numbers in the maul and Faf de Klerk took advantage of this. He quickly found Makazole Mapimpi who burst through the lines to score a try.
Handre Pollard was unable to convert Mapimpi's try and the scoreboard read 5-0 to South Africa.
Japan answered back, 15 minutes later via Yu Tamura who scored a penalty.
After allowing those points, the Springboks shut shop, denying Japan opportunities to score. Despite having significantly greater possession in the first half, Japan only had three points to show for it.
In the second half, it was South Africa who dictated proceedings. They also added to their lead three minutes into the second half via a penalty. Kotaru Matsushima cynically brought down Mapimpi with a high aerial tackle and Pollard did the job. The Japanese wing was lucky to not receive a card.
Japan had to pay for their indiscipline in the scrum five minutes later as they conceded another penalty. Pollard was again on the mark to make it 14-3 to the Boks.
South Africa saved their best for the last 15 minutes as they scored their second try of the game.
After a lineout and subsequent maul near the halfway mark in the 65th minute, the Springboks showcased a great feat of strength as they pushed the maul right to Japan's 22. At the optimum moment, Malcolm Mark broke out of the maul and found a rushing de Klerk who scored.
The faintest of Japanese hopes were killed four minutes later as the Springboks executed a breathtaking piece of counter-attacking rugby. 
Pinned inside their own half, the Springboks spread two quick passes to open up space for Pollard, who broke Japan's line. Pollard then gave it to Willie le Roux who spread it to Mapimpi. The latter had an unobstructed path to the try zone, save a Japanese defender who tried to make a last-ditch tackle.
South Africa will now take on Warren Gatland's Wales, who squeaked past 14-man France. As for Japan, this will be a campaign to remember and mark how far the nation has come in this sport.
Talking points
The Springboks were on their money to make this game a physical battle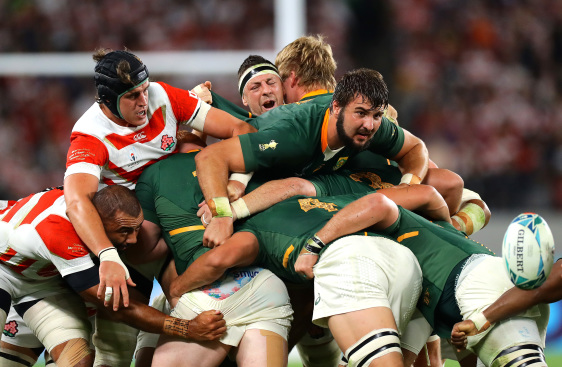 South Africa did what Ireland and Scotland were unable to.
They slowed down the Japanese, utilizing they physical advantage in the rucks and mauls.
The Springboks won 10 of 10 mauls. Japan, meanwhile, lost its only maul. The Boks also had a 100% record in the rucks as well as the lineouts.
South Africa also scored its second try from an incredible play that came through a yard-eating maul. They also did well to bait Japan into making a mistake in a scrum and conceding a penalty that was scored by Pollard.
The Boks' strategy helped them wear out Japan. This helped Erasmus' men to put the game beyond Japan in the 65th and 69th minute.
Having the likes of Siya Kolisi, Steven Kitshoff and Tendai Mtawarira definitely helps in physical engagements.
Two cards not given?
Mtawarira and Matsushima were two players who committed some hard fouls in the game. On closer look, one can argue that both were not deservedly punished for their transgressions.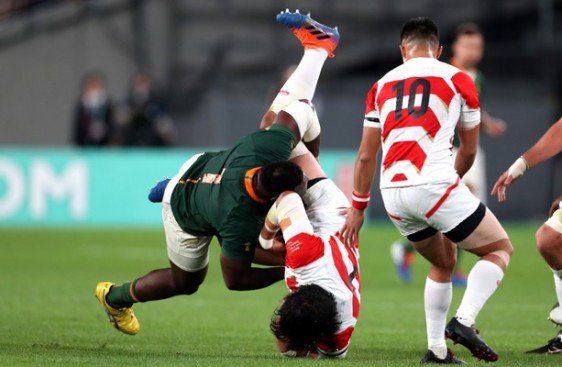 The Springboks' prop was the culprit in the 10th minute. "The Beast", as he is fondly known, executed a great tackle on Keita Inagaki. Mtawarira then made himself look like a fool by dropping Inagaki over the head. "The Beast" was dished out a yellow card by referee Wayne Barnes.
Looking at the fouls that have resulted in red cards at this World Cup, once could make a case for Mtawarira being sent off. That would have been one heck of a game-changing moment.
Japan were also embroiled in a dangerous tackle in the game. Matsushima caught a jumping Mapimpi while contesting for an aerial ball. The Japanese wing, in the process, caught Mapimpi's head with his arm.
He, surprisingly, was not even given a yellow card.
Japan are now a force to reckon with in the rugby world
Today's performance notwithstanding, Japan have shown that they can rub shoulders with the best.
While the Brave Blossoms were out of their depth in today's quarterfinal, their 2019 campaign has been one filled with positives.
The Japanese defeated two home nations, including then World No. 1 team, Ireland. They topped their pool and became the first Asian nation to make it to the Rugby World Cup knockouts.
It was, thus, surreal that Japan's story at this World Cup was brought to rest by the very team that kickstarted everything four years ago.
Jamie Joseph has done some outstanding work with this team. As Kolisi put it, the entire nation of Japan should be proud of what they have done and achieved in this World Cup.
Cover image credits: The Telegraph