France vs Italy Autumn Nations Cup 2020
France vs Italy Autumn Nations Cup 2020
France will be hosting Italy in the Autumn Nations Cup in Paris on Saturday and Les Bleus have a chance to seal their spot in the playoffs finals.
The game is scheduled to be played on 28 November and the game will see Nigeria Owen as the referee. France would wish to top the pool and that will only be possible if they avoid defeat.
A win here would see them face England most probably in the playoffs finals as Fiji quitting from the tournament due to the COVID-19 pandemic saw all their opponents awarded a 28-0 victory. 
Their triumph against Scotland last week was a tough one with Les Bleus winning 22-15 as they maintained their track as they finished the 6 Nations campaign as runners up to England in point difference. 
However, that time it was the game in Round 4 against Edinburgh which they lost (28-17) which ultimately proved to be key in terms of France missing out on the trophy. 
For Italy, the pre-match handicap was very accurate as they succumbed to Scotland (28-17) at home. 
The game against Fiji did not take place too and Italy barely got any chances to prove themselves. 
However,  things have gone down the line for the Italians as they have lost all their 6 Nations matches including a 35-22 defeat to France in Paris which despite the loss is hailed as their best performance to date. 
The entire year has been miserable for Italy as they lost 42-0 to Wales in Cardiff and post-lockdown too, they have been thrashed 50-17 by Ireland in Dublin and again a (34-5) loss to England in Rome.
France vs Italy Autumn Nations Cup 2020: Team News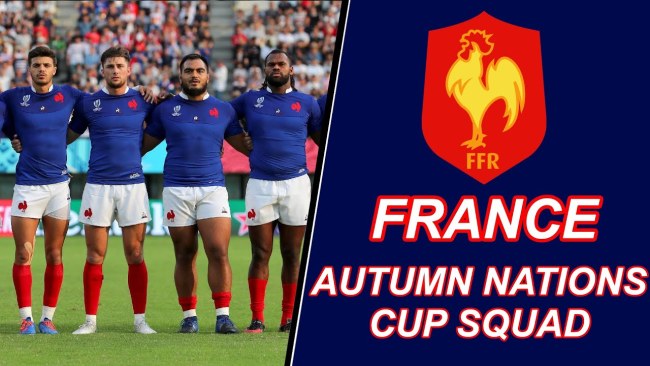 France: 
15 Brice Dulin, 14 Teddy Thomas, 13 Jean-Pascal Barraque, 12 Jonathan Danty, 11 Gabin Villiere, 10 Matthieu Jalibert, 9 Baptiste Serin, 8 Anthony Jelonch, 7 Sekou Macalou, 6 Cameron Woki, 5 Baptiste Pesenti, 4 Killian Geraci, 3 Dorian Aldegheri, 2 Peato Mauvaka, 1 Rodrigue Neti
Replacements: 
16 Teddy Baubigny, 17 Hassane Kolignar, 18 Uini Atonio, 19 Cyril Cazeaux, 20 Swan Rebbadj, 21 Baptiste Couilloud, 22 Louis Carbonel, 23 Yoram Moefana
Italy: 
15 Matteo Minozzi, 14 Jacopo Trulla, 13 Marco Zanon, 12 Carlo Canna, 11 Luca Sperandio, 10 Paolo Garbisi, 9 Marcello Violi, 8 Braam Steyn, 7 Johan Meyer, 6 Maxime Mbanda, 5 Niccolò Cannone, 4 Marco Lazzaroni, 3 Giosuè Zilocchi, 2 Luca Bigi (c), 1 Danilo Fischetti
Replacements: 
16 Leonardo Ghiraldini, 17 Simone Ferrari, 18 Pietro Ceccarelli, 19 Cristian Stoian, 20 Michele Lamaro, 21 Stephen Varney, 22 Tommaso Allan, 23 Federico Mori.
France vs Italy: Head to Head
In the last 5 years, Italy has played France in Paris, Rome, Marseille, Rome, and Paris respectively and have tasted defeat in all of them.
France vs Italy Autumn Nations Cup 2020 Prediction:
Sportco predicts a comfortable win for France.
Featured image credits- rugbyworld.com