Manchester United vs Villarreal Head-to-Head: Europa League Final 2021
Wednesday night will be lit as Manchester United go head-to-head with Villarreal in the final of the Europa League 2020-21 season.
Match Details:
Villarreal vs Manchester United
Venue: Gdansk Stadium, Poland.
Kick-Off: 8 P.M UK Time
Fans allowed: 9,500 spectators (25% capacity)

The final is set to be played on the 26th of May in Gdansk. This is also the first final of Ole Gunnar Solskjaer as the Manchester United boss. 
This will be Unai Emery's 5th Europa League final. He has won the competition three times (2014, 2015, 2016). 
Manchester United and Villarreal have gone head-to-head in the past but will be meeting again after more than a decade. 
All their previous head-to-head meetings have been in the Champions League and this will be the first time Manchester United take on Villarreal in the Europa League.
Let's have a look at how their past head-to-head meetings panned out. 
1) Villarreal 0-0 Manchester United (September 14, 2005)
The sides went head-to-head for the first time in 2005 as they battled it out in the Champions League group stages and United were pretty much the favorites. Boasting the likes of Wayne Rooney, Cristiano Ronaldo, and several others.
The game was a stalemate but it had some moments like Ruud Van Nistelrooy's effort cleared off the line. However, what hurt United more was the red card to Rooney because he mocked the referee's decision, earning a second yellow. 
2) Manchester United 0-0 Villarreal (November 22, 2005)
When the sides met again after two months at Old Trafford, a lot of action was anticipated but this game didn't go as planned. Both teams tried to come out and attack but neither could make an impact on the scoresheet.
After this goalless draw, United played a must-win game against Benfica but they lost and crashed out of the competition, while Villarreal stayed strong until the semi-finals when they fell short to Arsenal.
3) Villarreal 0-0 Manchester United (September 17, 2008)
Manchester United went head-to-head again with Villarreal in the 2008-09 Champions League group stages. This encounter was better than the previous two but the scoresheet remained unchanged.
Ronaldo was a part of the game for just half an hour as he was making a comeback from injury. However, this game did have some close chances that could've gone either way.
Jonny Evans' header for United, while Villarreal attacker Guillermo Franco hit the post and was not far from scoring. 
4) Manchester United 0-0 Villarreal (November 25, 2008)
Surprisingly, even their fourth head-to-head meeting didn't witness any goals and yet again it was Cristiano Ronaldo who was inches away from scoring.
The game was not a thriller but it didn't matter as Manchester United and Villarreal both progressed through the Group Stages that season.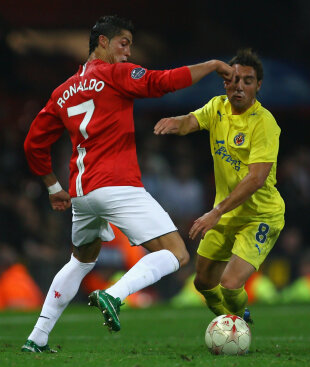 Head-to-Head Record in Europe
Manchester United Wins
0
Draws
4
Villarreal Wins
0
So yes, 360 minutes of head-to-head football between Manchester United and Villarreal had no goals to present us. 
What do you think? Will it be another stalemate for 90 mins and beyond? Or Will we see both sides trying to break what hasn't happened in the past?
Sportco predicts Manchester United to win the Europa League.
Stay Tuned for more updates.