Australian Open News: Novak wins his Australian visa battle on an unfamiliar court!
Novak Wins in Court
Tennis star Novak Djokovic has won a court battle challenging the cancellation of his Australian visa, in a case that has drawn global attention
Latest
Novak Djokovic is free to play the Australian Open after his win in court, but just after the court decision, there were rumours that Novak was arrested. However, he has not been arrested.
Why was Novak's visa cancellation overturned? 
The main basis that Judge Anthony Kelly overturned the federal government's decision to cancel Novak Djokovic's visa was that the tennis champion wasn't given enough time to respond to the notice of cancellation.
Judge Kelly said the visa cancellation was unreasonable because:
Djokovic was told at 5.20 am last Thursday morning that he had time until 8.30 am to provide comments in response to the notice of intention to consider cancellation under section 116 of the Migration Act.
Djokovic's comments were then sought at 6.14 am instead and the Border Force official made the decision at 7.42 am. "The applicant was thus denied until 8.30am to make some comments," Judge Kelly said.
If Djokovic had until 8.30 am, Judge Kelly said he could have consulted others and made submissions about why his visa should not be cancelled.
It is worth noting here that Judge Kelly did not make a ruling, rather he issued orders (agreed to by both Djokovic and the federal government) after the Minister for Home Affairs conceded the visa cancellation was unreasonable.
The Fans reaction 
Novak Djokovic's fan contingent has been milling around the Rialto Towers, where the men's tennis no.1 and reigning Australian Open champion is believed to be with his legal team.
A large line of Victoria Police are restricting the group from moving closer to the building on Collins Street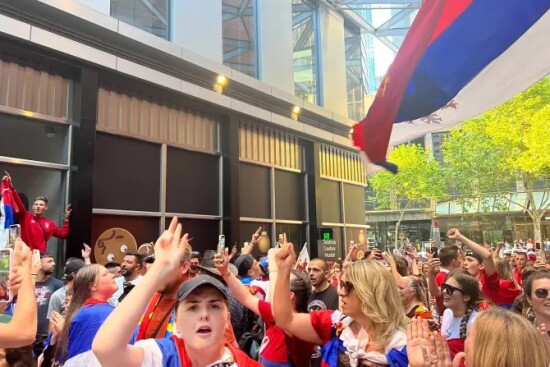 The fans chants of "free Nole" are ringing out inside the atrium, with no shortage of Serbian flags with them on display.