Pep Guardiola signs a two-year contract extension with Manchester City
After several speculations,  several media reports, and some baseless rumors that Pep Guardiola may return to Barcelona, Pep Guardiola has finally cleared the air by committing himself to the Cityzens until the end of 2022-23 season.
Guardiola's contract was due to expire at the end of this season and there was a lot of buzz around the Spaniard's return to the Catalan side amid the uncertainties in Barcelona's board.
However, with Pep signing the extension, the Premier League will be more intense in the years to come. The injury-ridden Liverpool have still managed to keep a spot in the top four as they face Leicester City this weekend.
The Foxes have done really well despite numerous casualties and the Premier League is looking forward to the most exciting finishes after a long time.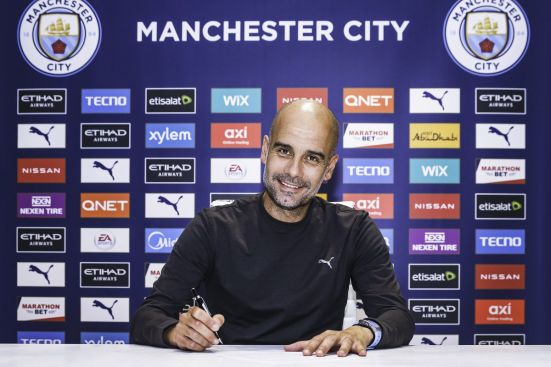 The primary reason for the Spaniard's extension would be some more league titles with an aim of at least conquering Europe once.
The team from the blue half of Manchester is yet to win a Champions League in their history and the only man who can make that possible is Pep, considering the records he has broken with his club in recent years.
With Pep Guardiola staying put at City for another couple of years, the speculations of Lionel Messi joining the former Barcelona manager would not die down. Messi has been very vocal about his discontent at the Catalans since their champions league semi-final debacle against Bayern Munich in Lisbon in August 2020. 
Pep is one manager who could get the best out of Messi even though the Argentine is not getting any younger with each day. Only time will tell if we would be able to Lionel Messi grace the premier league with his presence.
Manchester City will be travelling to London on Saturday to face Jose Mourinho's Tottenham Hotspurs. It couldn't have been a better test for Pep Guardiola after his contract renewal and Mourinho sure knows how to spoil a party.
As far as his arch-rival Jurgen Klopp has concerned, he may be above City at the moment but his team's injury list is very alarming too. 
Liverpool will be taking on Atalanta and Brighton in the span of six days after the Leicester game and it will be interesting to see how things pan out for the Reds.
Featured image credits- eurosport.com