Tokyo Olympics 2021: Tai Tzu Ying vs Chen Yu Fei Badminton Final: Match Preview
After several come-from-behind victories and thrilling matches, we are set for a blockbuster final in the women's singles event. World number 1 Tai Tzu Ying takes on the 2nd-ranked Chen Yu fei at the Tokyo Olympics 2021. 
Match Details:
Women's Singles - Gold Medal Match 
Date: August 1 2021
Time: 9:20 pm Japan Standard Time
Venue: Musashino Forest Sport Plaza BDM Court 1
Tai Tzu Ying leads the head-to-head record 15-3 against Chen Yu Fei 
The two legends have split their last 7 clashes 4-3 respectively. This is their first meeting since the All-England Open finals in March 2020. Tai won that match 21-19 21-15.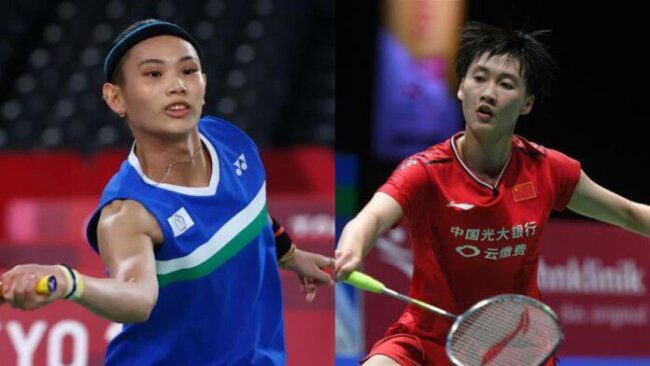 Key Insights: 
Despite winning the prestigious All-England Open 3 times in her career, Tai Tzu Ying is yet to grab a medal at the Olympic Games.
Chen Yu Fei is aiming to clinch the gold medal in her debut at the Olympics. 
Tai is playing her 6th final in a row since 2020 (Win-Loss record is 2-3). 
Chen's 3 victories against Tai have come in finals (All-England Open and World Tour Finals in 2019, and Malaysia Masters 2020).
Both Tai Tzu Ying (27) and Chen Yu Fei (23) are right-handed players.
Chen's semi victory against He Bingjiao was almost double the duration (79 minutes) than Tai's win versus PV Sindhu in 40 minutes. 
Both Tai and Chen have been stretched only once each to 3 games in the Tokyo Olympics. 
Tai made her debut in the Olympics way back in 2012 (London).
How did Tai Tzu Ying outlast PV Sindhu in the semifinals?
The World number 1 got sweet revenge against India's Sindhu in the semis at Tokyo. Pusarla had beaten Tai 21-13 21-15 in the pre-quarters at the Rio de Janeiro Olympics in 2016. However, Ying came up with a pulsating performance in the semis at the Tokyo Olympics 2021.
Despite trailing 18-16 against Sindhu in the first game, the Taiwanese shuttler took 5 points in a row and grabbed it 21-18. The second game was one-way traffic as a mix of clever dropshots, quick change in pace, and strong control of the rallies helped Tai to take charge. The 27-year-old won it 21-12 and stormed into the finals. 
Importantly, it was her 14th victory against Sindhu out of 19 matches. Tai's cross-court returns and powerful down-the-line smashes reflected the signature style of an artist in full form. 
How Chen Yu Fei got the better of her compatriot He Bingjiao?
In an all-Chinese clash, the World number 2 Chen edged past 9th-ranked He Bingjiao in 3 games in the semis. Yu Fei began strongly by taking the opening game 21-16. However, Bingjiao grabbed the second game 21-13 by relying on some inconsistent shotmaking and repeated unforced errors from Chen. 
As fans stayed glued to their smartphones and TV sets, Chen Yu Fei was composed under pressure and won the decider 21-12. It was a memorable occasion for the 23-year-old on her debut in the high-stakes event. 
Will these stats make a difference in the Olympics finals?
Tai has an uncanny ability to take points quickly. It was evident in her semifinal match against PV Sindhu as the average rallies were just 7 shots. Chen tired out He Bingjiao by playing an average of 11-shot rallies. Interestingly, Tai Tzu Ying finished off points 5 seconds faster (11) than Chen Yu Fei's 16 seconds.
The top-ranked Taiwan can take at least 2-3 points continuously and wrest the momentum. It was witnessed in the second game against Sindhu when she had a 9-point lead. Chen also clinched 5 points in a row in the third game and took a 9-point lead in the decider against Bingjiao. 
Wrapping Up
Moreover, Chen Yu Fei has won the first game in all her matches in Tokyo. However, the 23-year-old will know that it will never be over till the last point against Tai Tzu Ying. 
After all, the World number 1 lost the opening game 21-14 against Ratchanok Intanon but bounced back to win the quarters 21-18 21-18. 
The Chinese star can retrieve any shuttle with her lightning-fast court coverage. However, Tai has better variation in shot-making and forces opponents to play defensive. 
The top-ranked Taiwanese always performs well in high-pressure matches and deserves an Olympic medal. Expect Tai to use her terrific tactics and narrowly defeat the fast-rising Chen in an enthralling encounter. 
Prediction: Tai Tzu Ying to win in three games against Chen Yu Fei in the finals of the Tokyo Olympics 2021. 
 Featured Image Credits -  Djarum Badminton - Twitter