Sportco FIFA World Cup Flashback: France vs Argentina (4-3) World Cup 2018 | Lineup
With the FIFA World Cup 2022 fast approaching, we present you a throwback at a match between France and Argentina at the 2018 FIFA World Cup which turned out to be a seven-goal thriller. 
France vs Argentina: FIFA World Cup 2018
Although France won the 2018 World Cup, the Les Bleus had a number of bumpy moments in this match versus Argentina, but they managed to get the job done through their quality players.
This encounter is, without a doubt, the most exciting match of the 2018 FIFA World Cup. And we'll take a look at how things went down between France and Argentina.
FIFA World Cup 2018: France vs Argentina: Playing XI
France (4-2-3-1): Lloris; Pavard, Varane, Umtiti, Hernandez, Pogba, Kante, Mbappe, Griezmann, Matuidi, Giroud. 
Argentina (4-3-3): Armani; Mercado, Otamendi, Rojo, Tagliafico, Perez, Mascherano, Banega, Pavon, Messi, Di Maria.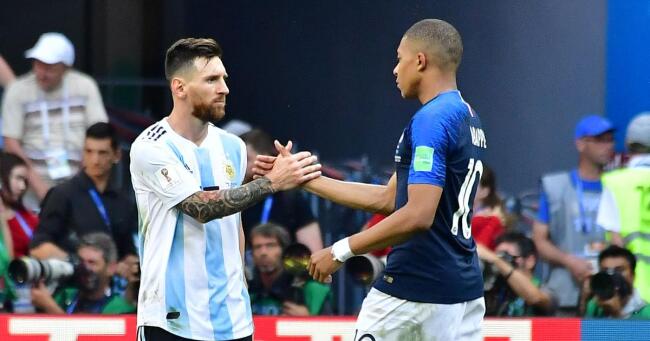 France vs Argentina World Cup 2018: 1st HALF
And now the action begins as two of the world's most powerful nations compete for a spot in the World Cup quarter-finals.
10 minutes: Kylian Mbappe takes up the lost ball and dashes towards Argentina's goal, Rojo. Mascherano attempts to stop him, but he's too quick, and Rojo ultimately knocks him down in Argentina's box, earning a penalty.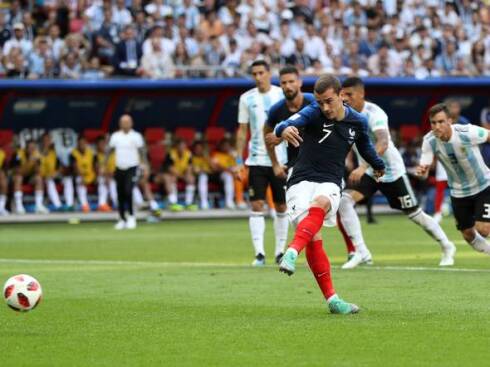 13 mins: Goal! Griezmann puts France ahead from the spot! 
19 mins: Nicolás Tagliafico receives a yellow card for a nasty foul. 
41 mins: DI Maria has the ball, and no one is closing in on him as he attempts the shot; GOAL! Another Di Maria special. Argentina equalizes before halftime. 
43 mins: Javier Mascherano receives a yellow card for a hard tackle.
45 mins: The halftime whistle has been blown. Both nations are poised in the first half, and the second half will hopefully settle their fates.
France vs Argentina World Cup 2018: 2nd HALF 
48 mins: GOAL! Argentina takes the lead. Lionel Messi fires a shot that takes a deflection off Gabriel Mercado, and the ball flies past Lloris from the bottom right corner.
57 mins: GOAL! Benjamin Pavard unleashes a super side footed strike from the right, to bring France back into the game. Score is 2-2.
64 mins: GOAL!! Kylian Mbappe scores the game's first goal, driving past Otamendi and sliding the ball into the goal from the left side of the area.
66 mins: Substitution for Argentina. Sergio Agüero replaces Enzo Pérez.
68 mins: GOAL!! Argentina's dreams of a comeback have been shattered as Kylian Mbappe doubles France's advantage with a powerful strike to the bottom left corner. France are 4-2 up.
70 mins: Argentina poses a danger but lacks the cutting edge.
75 mins: Substitution for France! Blaise Matuidi has been replaced by Corentin Tolisso.
80 mins: Argentina will need two more goals to force extra time, and their luck is slipping out. 
90 mins: Five minutes extra time has been given. 
93 mins: GOAL! Messi whips in a cross, Aguero rises the highest and heads home, and Argentina are back in the game. Maybe it's too late for Argentina. 
95 mins: The final whistle is blown by the referee. France upsets Argentina 4-3 in this World Cup match, putting an end to Messi's World Cup hopes. Lionel Messi and his teammates have suffered yet another disappointment in their quest for an international championship.
Final Whistle: France 4-3 Argentina
We hope you enjoyed this text commentary on an iconic game between France and Argentina at the 2018 FIFA World Cup.