The allure of winter transfer window: Will De Jong join Bayern?
What is the rumour?
 A report from Mundo Deportivo came out on 9th of December, stating that Bayern Munich may be interested in securing the signature of Frenkie de Jong. How fanciful it may seem, there are some real reasons why it just cannot be reduced to a rumour.
The reasons of approbate.
Barcelona's weak finances
Frenkie De Jong has been in Barcelona for almost a year now. He is only 22, but his young age doesn't prevent him from earning big. De Jong is already one of the highest-paid players for Barca. 
But with the Coronavirus crisis, Barcelona has seen a serious decline in profit levels. So much so, there are fears that the club could run out of cash and become bankrupt. A club like Barcelona cannot obviously afford to gain such a Name, and there are some serious cost-cutting efforts on part of the club. 
Many big names were already shown the door, but that still not proved enough. There are some still big cheques to be filled. The low-moneyed board now wants to reduce their expenses further.
Players like Frenkie de Jong, are some good earners. But his performance has so far not been at the level as expected of him.  But that does not prevent him from having any fewer suitors than before. 
Many big clubs had been interested in the player and still dreams of signing him. Also selling a player with a market value of close to $80m will surely provide the club with some valuable cash. In fact, the tough financial situations may actually force Barcelona to sell him, for good.
Bayern needs and interests.
Frenkie De Jong has been on the steadily building his profile, ever since he started his professional career with Ajax. But his value skyrocketed in 2019, as Ajax went to the semi-finals of Champions League beating Real Madrid and Juventus.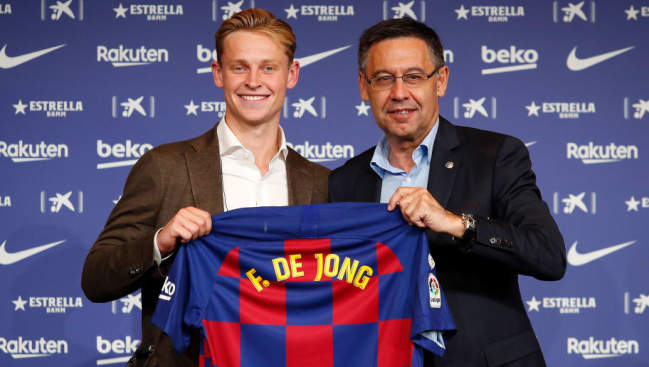 The players from the team soon became a hot cake in the transfer market. But it was already too late for Frankie De Jong's signature as Barcelona had done the job 6 months before. But even before that, some clubs had their eyes on, and Bayern Munich was one of them. 
The Bavarians had been in contact with him as early as 2018; bit could not actually sign him to the team.
After Thiago left for Liverpool this summer, they have wanted someone to replace the Spaniard. Joshua Kimmich may have taken up Thiago's responsibilities and the versatile German is executing them with most ease and wonder, but the brand mark of Thiago's game was a whole different thing. 
His cheeky dribbles, perfectly timed passes and extraordinary skills are being wanted desperately. Also, the team needs someone who can hold on to the ball with ease. The Kimmich-Goretzka duo is more than capable in midfield for Bayern but in absence of even one, the side looks lost and scattered. 
Hence some names have naturally popped up to fulfil the position. Frenkie De Jong seems to a perfect choice. He has an exceptional passing range and dribbling skills, plus he isn't bad on physical duels either. 
De Jong's own dilemmas
Frenkie De Jong's arrival in Barcelona may be a dream move for both the club and the player, but it was ill-timed. There has been a lot of drama within the club. A huge stress exists between players and board, due to repetitive change in managers and even management members. Also, there have been some real tensions in the dressing room. Added to that De Jong has not been able to get the perfect coach for him. The previous coaches Ernesto Valverde and Quique Setien had very less managerial control over the team. Barca's new manager, Ronald Koeman may be extraordinary personality but he too does not that tactical charisma.
Barcelona manager, Ronald Koeman, being Dutch himself and a player from John Cruyff's era is not really passionate about the tika-taka style of play. De Jong loves to play at the base of the midfield, and be the playmaker. Somewhere like Xavi or Andrea Pirlo played. 
But Koeman rarely uses the Cruyff's 3-4-3 formation or even the 4-3-3 formation. Instead, he follows the modern 4-2-3-1 formation, at times even the 4-2-2-2 style. This formation believes more on fast playing football, with excessive use of the wings. The midfield passing formula has less part in them.
De Jong and his preferred position on the pitch has little or no place in Koeman's line-up. He is therefore forced to play as in a double pivot.
How Bayern comes to help?
The typical age for possession-based football seems to have been gone. Most modern coaches rely on wing play, where pace and power has a huge role to play. There is a strategic shift towards the 4-2-3-1 formation or other likewise. 
While many coaches are pursuing the formula, but German coaches like Hansi Flick are the masters of the art. Young players like De Jong should adapt themselves with the new style, and what's a better place than being under Flick like mangers. Bayern Munich strictly believes in wing play, with an excessive high line and a power and speed based football.
Also, De Jong, joining Bayern will bring him in contact with players of Goretzka, Kimmich, and Mueller who have already mastered the art. De Jong can well try and masteries himself in Bavaria as their playing style of football would suit the Dutchman. 
He loves physical duels something relished by almost all Bayern men. Plus De Jong can fulfil some wonderful position in the line-up of Bayern Munich.
Hurdles for the transfer
The transfer to Bavaria seems to an all good thing. In fact, when the report came out, it seems like Bayern are actually laying an offer on the table. But subsequent reports by German magazine SportBild has revealed, the transfer being only a rumour. 
They said Bayern are not really pursuing the trade with just interest in the player. In fact, there are some real hurdles to be overcome for the transfer to happen.
Firstly, De Jong's current style of play is the not best fit for Bayern, and he will take a bit of 'polishing' before, he can play for Bayern. Secondly earning a place in the line-up is itself a mammoth task.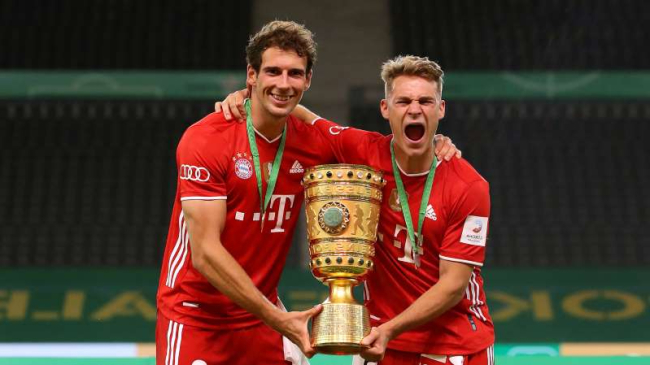 The Kimmich- Goretzka duo is unlikely to be replaced. Henceforth De Jong may never really become a starter. But even a first choice midfielder is an uphill road. The competition is huge. Corentin Tolliso along with Marc Roca is already on the bench to start. 
Added to it are the youngsters Tiago Dantas, and others. With such a huge competition, a guaranteed place seems not an option. 
Also fees involved for the transfer in a big problem. Barcelona would like to get a good amount of cash for the transfer possibly somewhere close to $75m for De Jong. Bayern would surely not pay that high amount. In fact, if the transfer is at all to happen the maximum amount paid by Bayern would not exceed $50m. Negotiating the fees would be a big problem.
Barcelona now may be in crisis and a transition phase, but surely they would not like to extend this period for much longer. And it is through these young players like Frenkie De Jong that the club must start its new era. Selling off players like him will only be a short-sighted move.
Featured Image Credits - thesun.co.uk