Kevin De Bruyne vs Bruno Fernandes: Head-to-Head Stats & Analysis
Kevin De Bruyne has been regarded as the best midfielder of this generation by many if not all. There were not many competitions or comparisons in the Premier League until the arrival of Bruno Fernandes at the Theatre of Dreams.
Bruno Fernandes made an instant impact for Manchester United as soon as he arrived at the club and has been making quite a stir in the conversation for the best attack minded midfielder in the world currently. 
Of course, KDB's rival had to play for the arch-rivals of Manchester City. Statistically, Kevin De Bruyne has been the best passer in the world with no one close to him except the likes of Lionel Messi. 
Bruno, has been banging goals left and right for Manchester United and has established himself as a threat for any defensive line in the Premier League. 
| | | |
| --- | --- | --- |
| Player Profile | Kevin De Bruyne | Bruno Fernandes  |
| Age | 30 | 27 |
| Nationality | Belgium | Portugal |
| Height | 1.81m | 1.79m |
| Position | CM, CAM | CAM |
| Preferred foot | Right | Right |
Kevin De Bruyne vs Bruno Fernandes: Club Career Stats
Below we can take a look at the professional stats of both the midfielders, Kevin De Bruyne and Bruno Fernandes. 
| | | |
| --- | --- | --- |
| Kevin De Bruyne  | Club Career Stats  | Bruno Fernandes |
|            497 |    Games Played |            389 |
|             115 |           Goals |             132 |
|             191 |          Assists |              96 |
|            354 |      Key Passes |             148 |
| | | |
| --- | --- | --- |
| Kevin De Bruyne  |    UCL Stats | Bruno Fernandes |
|             52 | Games Played  |              13 |
|             10 |       Goals |               5 |
|             15 |      Assists  |               3 |
Statistically, Bruno Fernandes is a better goal scorer than Kevin De Bruyne. However, Kevin De Bruyne is not always on the penalties but still manages to score a good amount of goals for a midfielder. 
When it comes to assists, KDB is on a league of his own but it is also because he has played more games. 
We cannot deny the fact that Kevin De Bruyne has always been in a more competitive league for the majority of his career but Bruno Fernandes has been impressive so far in the Premier League. Both the players have been excellent and are definitely amongst the top midfielders of the world. 
Kevin De Bruyne vs Bruno Fernandes: Playing Style 
It is always difficult to sum up how a player operates in a football match to their fullest but we can definitely write a short summarization of both the players. 
For Kevin De Bruyne, the man is a midfield general. He can play any position in the midfield and sticks to the responsibilities of the position. 
A pure midfielder, rare in today's generation but the man has also impressed as a number 10 in Manchester City. He spends most of the time between the penalty box and the centerline. Always looking for progressive passes and through balls in spaces for the teammates, as he's a playmaker. 
Kevin De Bruyne is a threat from outside the box, no matter which side of the box as he's got no weak foot but prefers to shoot with his right. 
His exquisite ball control allows him to dribble towards to defense of the opposition which leads to the defenders going after him, opening up space for his other teammates. 
De Bruyne's long balls and crosses are just as precise and effective on the pitch as he often ever misses his target man's area. KDB scores quite often but he enjoys laying the ball off for his teammates to score more. He looks for available options before taking a shot. 
Bruno Fernandes operates as an attacking midfielder, a classic one as well. He facilitates the attack with both his runs and passes, stays mostly near the penalty box, and makes a run whenever he sees an opening. 
His long shots are a threat as well, an amazing penalty taker to add on to it. Bruno's playmaking abilities are just as good and his 96 assists are there to prove it for him. 
A risk-taker who prefers to have a direct approach in attacking play. He's one of the best goal-scoring midfielders of this generation, if not the best. 
Off the ball, Bruno Fernandes is always looking for a run or a pass that could progress the attack. Apart from playing as an attacking midfielder, Bruno does well in the central midfield position and also plays as a second striker. 
Kevin De Bruyne vs Bruno Fernandes: Individual Awards 
Kevin De Bruyne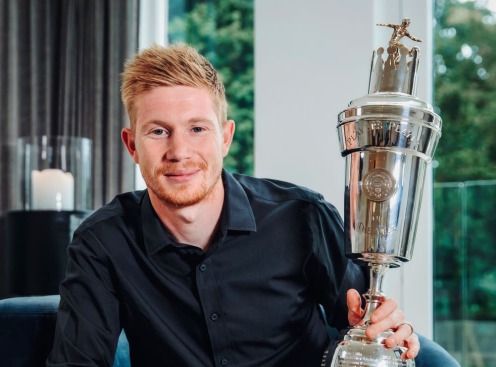 Bundesliga Player of the Year: 2014-15
Footballer of the year(Germany): 2015
Belgian Sportsman of the Year: 2015
Manchester City Player of the Season: 2015-16, 2017-18, 2019-20
PFA Player's Player of the Year: 2019-20, 2020-21
UEFA Champions League Midfielder of the Season: 2019-20
IFFHS World's Best Playmaker: 2020
IFFHS UEFA Team of the Decade: 2011-2020
Bruno Fernandes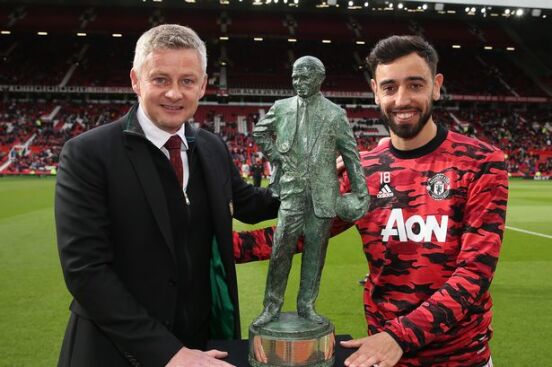 Primeira Liga Player of the Year: 2017-18, 2018-19
Sporting CP Footballer of the Year: 2018, 2019
CNID Footballer of the Year: 2019
Manchester United Player of the Year: 2019-20