Mary Kom looks ready for a final shot at Gold at the Tokyo Olympics 2021
When it comes to Indian boxing, Mary Kom will forever be one of the biggest legends in the country. Mangte Chungneijang, better known as Mary Kom, is a six-time World Champion in Amateur boxing. 
Indians are yet to make a staple in professional boxing but Mary Kom has set the bar high for any amateur boxer to follow in her footstep. 
With the Olympics 2021 coming up in the city of Tokyo, Mary Kom eyes to bring back a Gold medal for her country.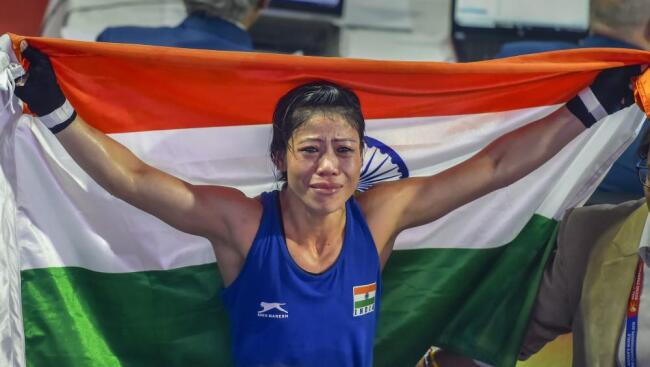 Previous Performances:
In 2012, Mary Kom made her Olympics debut where she managed to bag the bronze medal. We can say that she has been a little unlucky when it comes to The Olympics even after winning the bronze. 
She has won gold medals in both Commonwealth Games and Asian Championship. Adding onto it, she has managed to win the Asian Championship five times. 
Mary Kom is celebrated as the finest boxer ever to have come out of India, and rightly so. With 13 gold medals across different major tournaments, Mary Kom is a well-decorated boxer. 
Mary Kom has announced that the Olympics 2021 will be her last, as she hopes to put an end to her Olympics career with a gold medal to her name. She has managed to win all the gold medals but she is only left with the Olympics Gold Medal. 
Road to Tokyo Olympics 2021:
Mary Kom was looking unbeatable leading up to the Olympics until she met with Kazakhstani boxer, Nazym Kyzaibay. She was defeated for the gold medal in the Asian Boxing Championships final. 
Her opponent was no easy fighter as Kyzaibay is a two-time champion. And the result was a 2-3 split decision in the favor of Kyzaibay, so we can tell it was a close fight against one of the current World's best. 
After getting older, Mary Kom has decided to move up in weight for the Olympics as she will now prepare for the 51 kg weight category. 
Mary Kom's current fight camp is going on in Assisi, Italy, where the rest of the Team India boxers are training for the Olympics as well. 
The Indian Boxer's fighting career expands over 2 whole decades, and she has been winning throughout these 20 years as she has bagged 13 gold medals, 3 silver, and 3 bronze. 
Such a resume will always intimidate any opponent. Olympics 2021 will not be a child's play for Mary Kom obviously, but she will try to showcase her skills which she attained over 20 years of fighting experience. 
Mary Kom has also been selected to become the flag bearer for Team India in the Tokyo Olympics 2021. Billions will be rooting for Mary Kom to bring India its first-ever Olympics gold medal in the sport of boxing.