Recapping major upsets of 2019 Rugby World Cup so far
The ninth edition of the Webb Ellis Cup is well and truly underway and is nearing the knockout stage. Some of the title contenders have romped their opposition ruthlessly. At the same time, there has been a couple of huge upsets, which no one saw coming.
The host, Japan has been the surprise package of the tournament so far. The squad looks well drilled and up to the task. They have won all three of their matches so far and sits at the top of their group and have all but secured safe passage to the knockout round of this prestigious tournament. Winning the tournament is still a far fetched dream but this can be a start of something extraordinary for years to come.
Perennial prime contenders, New Zealand has sailed through the group stage, winning all three of their matches handsomely. All the remaining past winners are also on the right track and will easily go through.
No international sporting tournament is complete without the bewilderment and drama brought about by some huge upsets. This edition has also witnessed a couple of huge upsets in the tournament so far, and the championship has not even reached it's crucial stage yet. Let's take a look:
Uruguay win over Fiji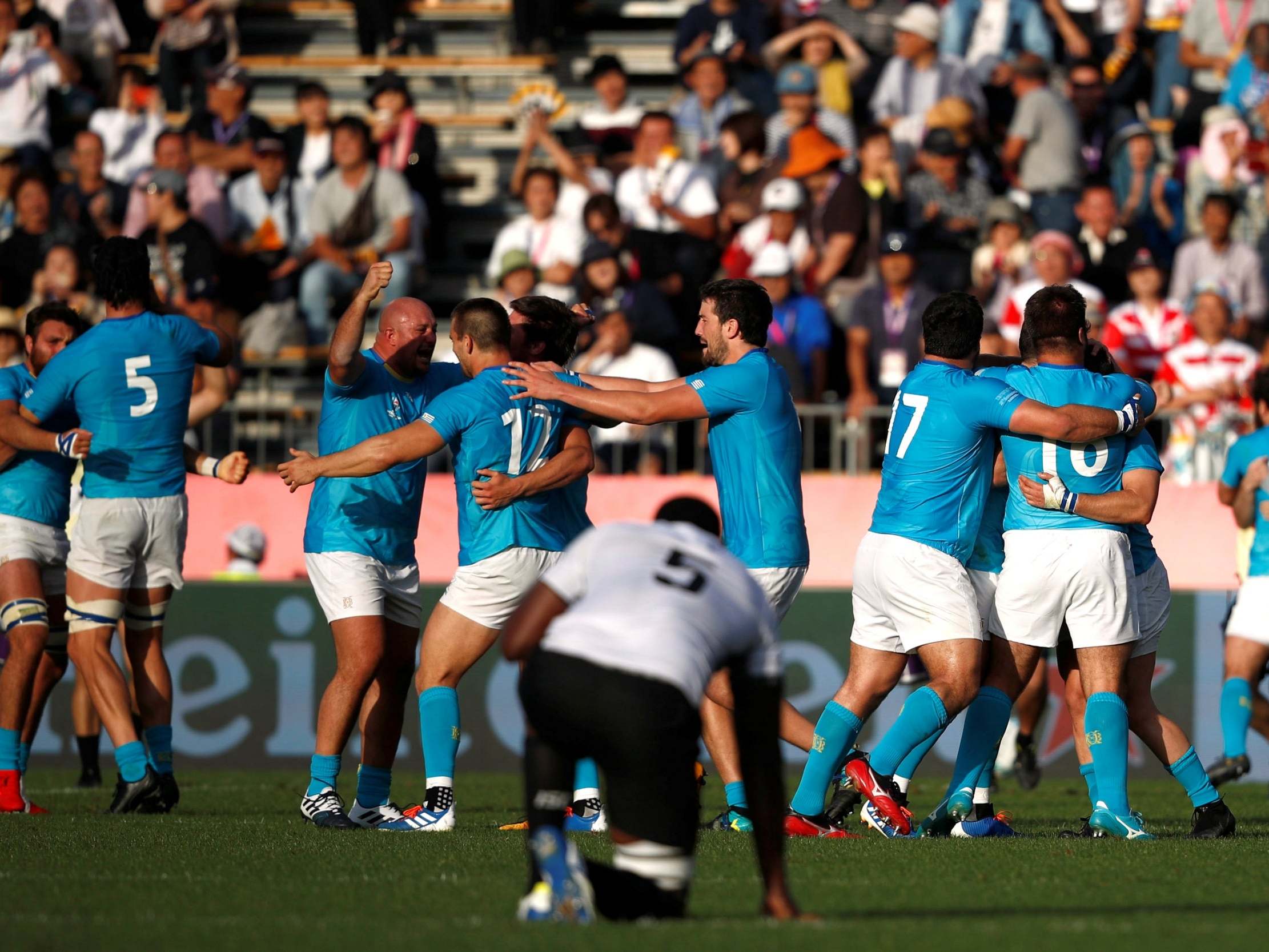 When we crunch some numbers, this Group D clash is as strange as it gets. The World No. 11, Fiji outscored the South Americans three to one in almost all of the vital statistics. Fiji outscored Uruguay's five tries to three. The Pacific island nation had a possession of 59 percent to Uruguay's 41.
Fiji also dominated the ball, recording 178 carries to just 99 which was achieved by Uruguay. The island nation also won 109 of the rucks and mauls compared to 71. Their run metre also racked up to 746m, which dominated Uruguay's mere 288m.
But games aren't decided on mere stats. It requires passion and a lot of courage. The South American nation surely had it. It's a huge as achievement as this win was their first win at a World Cup since 2003 and a first win over Fiji ever.
The result brought the tournament to life after some predictable results. Hopefully, Uruguay takes a lot of lessons out of it and come back stronger in the next edition, just as Japan is doing it in this tournament.
Hosts Japan win over the then World No. 1, Ireland
The hosts possess a talented set of individuals who have worked hard on their game since the last edition of the tournament in which they defeated South Africa in one of the biggest upsets of all time.
Bookies and experts all had their money on Japan to make some waves and cause one or two major upsets. They did exactly that.
Under the guidance of Jamie Joseph, they overcame the then World No. 1, Ireland. The Irish lead at the halfway stage as tries by Garry Ringrose and Rob Kearney helped the scoreboard read 12-9.
A partisan crowd of 47000 people urged Japan on and they came back into the match with a try from replacement, Kenki Fukuoka. They played with such pace and fervour that one of the fiercest defence began to crumble.
They ultimately won by a score of 19-12. The 'Cherry Blossoms', as they are known are performing admirably well and are still unbeaten in the tournament. They lead their group and are set to enter the knockout stages quite easily.
All eyes are on Japan now. Can they thrive under pressure now that expectations from them has increased a hundredfold? Or, are they going to crumble? Whatever happens, we sure are in for some good old World Cup drama.
Cover image credits: Sportforbusiness.com