Tottenham vs Manchester United: Head to Head Record | H2H Stats | Previous Results | History
Amidst the highly attractive midweek Champions League fixtures, Premier League is set for a clash of its own as Tottenham Hotspur host Manchester United at the Tottenham Hotspur Stadium on Sunday.
The fixture has a lot of significance for both sides as Spurs want to steady their ship to make it to the Champions League next season, while the Red Devils want to at least finish as close as they can to their neighbors Manchester City.
It is also a high-profile fixture as Jose Mourinho, the current Spurs boss faces his old club. The sides have had some pretty tight and competitive fixtures in the past.
Who do you think will win? Will Manchester United complete 23 away games unbeaten in the Premier League or will Jose Mourinho's Tottenham spoil another night for the Red Devils? 
Let's analyze how both sides fared in their last five meetings. 
Last 5 Head to Head Meetings
Tottenham Wins
2
Manchester United Wins
2
Draws
1
1) Manchester United 1-6 Tottenham (4 October 2020)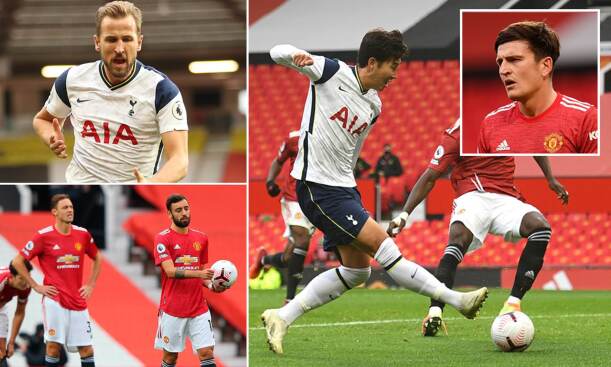 The last meeting between Manchester United and Tottenham Hotspur was a disaster for the hosts, while Jose Mourinho and co were exulted for most of the game. 
The game picked up pace rapidly as Manchester United fired from a penalty in the second minute of the game, a foul on Anthony Martial that was converted quite comfortably by Bruno Fernandes.
However, Tanguy Ndombele responded in the best possible way as Tottenham equalized just two minutes after conceding. More drama was yet to unfold as Heung-Min Son scored another goal via Harry Kane's quick free-kick and in the blink of an eye, Manchester United were trailing.
However, the turning point of the game was yet to come as Anthony Martial was sent off with a straight red after he was involved in a tussle with Eric Lamela. The sending off was not only unjust but also unfair as the sparks came from Lamela.
With ten men, Manchester United were trailing and in the time they could figure out a way to get back, a misplaced pass from Eric Bailly fell to Son who set it up for Harry Kane and Tottenham were flying at Old Trafford.
Things turned from bad to worse as Son completed his brace and Manchester United were in shambles at the stroke of half-time.
The second half did not help Manchester United much either as Serge Aurier fired from a penetrative pass from Pierre-Emile Hojbjerg as Manchester United conceded the fifth just six minutes after the second-half whistle.
The game saw its final goal just before the 80th min as Harry Kane converted a spot-kick and Manchester United suffered one of the heaviest defeats in their history at home.
2) Tottenham 1-1 Manchester United (20 June 2020)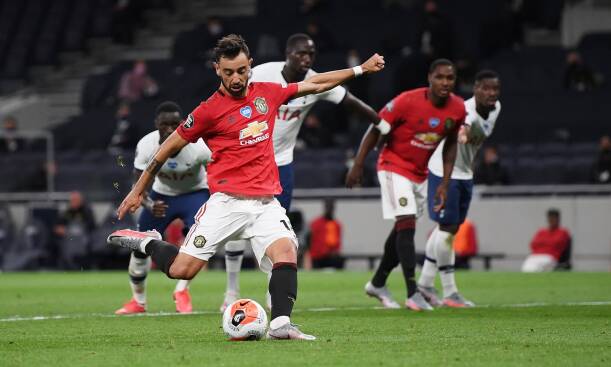 This was United's first big game after the Premier League resumed from a three-month gap also known as the 'Project Restart.'
The game witnessed its first goal in the 27th minute, courtesy of Steven Bergwijn who slotted the ball well, while it was also helped in its way by Manchester United no.1 David De Gea.
Paul Pogba barely had any action in that season due to an ankle injury, but the Frenchman was finally fit for a ten-game run which was very instrumental in United's chase to the top four spot.
The 2018 World Cup winner ended up winning a penalty for the Red Devils that was scored by Bruno Fernandes in the 81st minute of the game.
3) Manchester United 2-1 Tottenham (5 December 2019)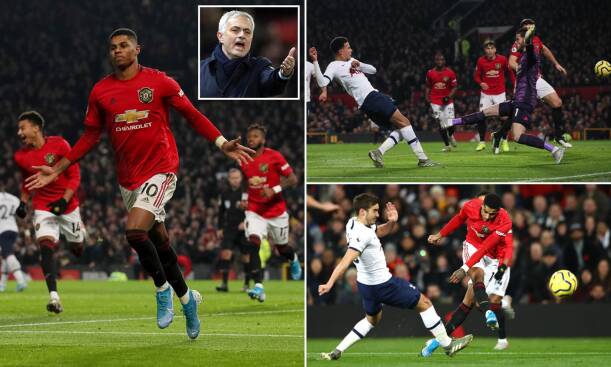 Jose Mourinho's first game against his former club did not turn out to be the way the Special One would've wanted as Tottenham conceded inside the first ten minutes of the game from a sensational Marcus Rashford strike that ended in the bottom right corner of the Tottenham stopper.
Just six minutes before half time, Dele Ali pulled a goal back for his side as Mourinho got time to plan the other half of the game with peace.
However, just four minutes into the second half, Moussa Sissoko's clumsy challenge brought down Marcus Rashford, who then stepped up to restore United's lead at the Theatre of Dreams, which also turned out to be the winner.
4) Tottenham 0-1 Manchester United (13 January 2019)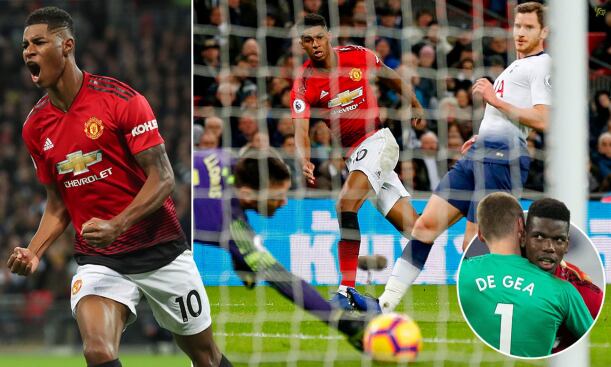 The game was played at Wembley as Tottenham were yet to shift to their new stadium and Mauricio  Pochettino was still in charge of Spurs.
Ole Gunnar Solskjaer was yet to become Manchester United's permanent boss as this was one of the hurdles he had to pass to prove that the Norwegian was competent. 
The game was a tight one but a sumptuous Paul Pogba assist finished beautifully by Marcus Rashford which turned out to be the only goal of the game and a memorable one for all the men in red which displayed their blistering two-touch counter-attacking prowess.
5) Manchester United 0-3 Tottenham (28 August 2018)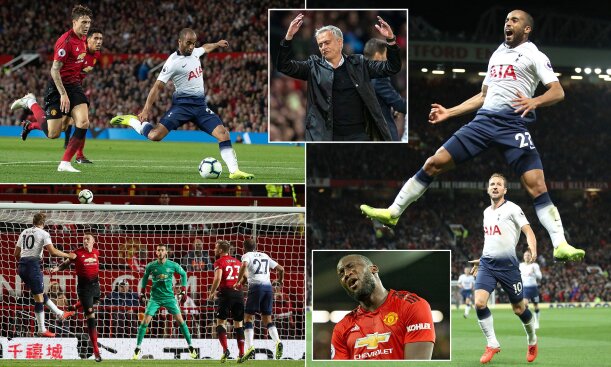 Manchester United had to dream bigger after they finished as runner-ups in the 2017-18 season, and this fixture was their first 'big six' clash of the 2018-19 season. 
After a goalless first half, Harry Kane registered himself on the scoresheet for Tottenham from a corner by Kieran Trippier. Just two minutes later, Spurs doubled their advantage with Lucas Moura, who also scored their third and final goal of the game.
This 3-0 loss at home to Tottenham Hotspur led to a lot of speculations as Mourinho went under the scanner for several reasons, while Mauricio Pochettino, who was considered to be his potential replacement earned a lot of praise.
After having a look at these fixtures, who do you think would come on top this Sunday? Let us know. Stay tuned for more content from Sportco.