Manchester United vs Liverpool: Premier League Head-to-Head Record | H2H Stats | History
Super Sunday is about to get bigger as we see two of the greatest English giants battle it out yet again, as Manchester United hosting Liverpool at Old Trafford.
Manchester United need a win at any cost to keep any sort of pressure on their neighbors who are very close to winning their fourth Premier League title, while the Reds need a triumph to have the best shot at the Champions League spots.
Will Manchester United continue their rich vein of form? Or will Liverpool continue their unbeaten run against the red devils in the premier league? 
What do you think? Who has the upper hand going into the fixture? Let's analyze the last five Premier League meetings between Manchester United and Liverpool.
1) Liverpool 0-0 Manchester United (17 Jan 2021 | Anfield)
Liverpool dictated the play in the first half, while Manchester United stayed on the backfoot. However, the second half witnessed more of the Red Devils, as they came out and expressed themselves in quite some fashion. 
The game was a stalemate but it is safe to say that Manchester United had the two biggest chances of the game via Bruno Fernandes and Paul Pogba, but credit to Alisson to have held his ground well.
2) Liverpool 2-0 Manchester United (19 Jan 2020 | Anfield)
Almost a year ago, just two days before their 2021 meeting, things were completely different as Manchester United visited Anfield in the quest for a performance that leads them to the top four.
However, Liverpool were in the best phase of their history as whatever they did fell in place, and their foes failed to have any answers.
Inside 15 minutes, Virgil Van Dijk was on the scoresheet via a corner, and the Reds took advantage. The second half saw some crucial chances not go in their way but later cost them the chance to make a comeback.
In an attempt to take a point home, Manchester United pushed hard in the dying minutes of the game, but Alisson's fantastic long ball set Mohamed Salah on an unfazed run which he converted to put the game to bed.
3) Manchester United 1-1 Liverpool (20 October 2019 | Old Trafford)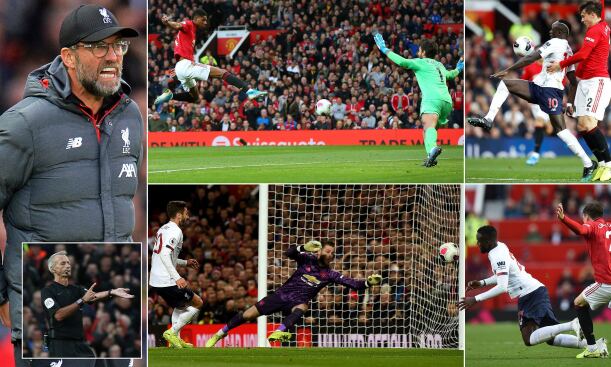 The Reds were off to one of their best starts in the top-flight, and this was one fixture that could've put an end to their spectacular winning streak. Things went as planned for the Red Devils as Marcus Rashford scored from a wonderful counter-attack and a final ball by Daniel James.
However, Liverpool's intensity was not something that could be dealt with very easily. United tried a lot and almost successfully won the three points until Adam Lallana scored after 15 minutes of being introduced as a substitute. 
4) Manchester United 0-0 Liverpool (24 February 2019 | Old Trafford)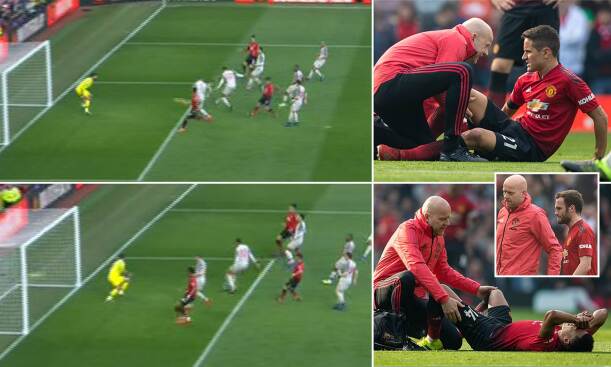 This stalemate saw a lot of drama as it was a crucial fixture for both Manchester United and Liverpool. Despite a decent start for the Red Devils, continuous injuries broke down their tempo and they couldn't play with the freedom that they would've anticipated.
Manchester United depleted their substitutions in the first 45 minutes itself, and couldn't bring the best out of themselves as the game ended 0-0. 
5) Liverpool 3-1 Manchester United (16 December 2018 | Anfield)
A night that all Man United fans want to erase from their memory saw a lot of unexpected stuff. Despite being fully fit, Paul Pogba was on the bench, and yes, you guessed it right. 
This was also a part of Jose Mourinho's plan. Liverpool went ahead quickly through Sadio Mane from a sumptuous ball from Fabinho that took the entire United backline by surprise as the Reds broke through.
Within ten minutes, Manchester United responded well with a Jesse Lingard goal after a fumble from Alisson. The second half was more intense with United holding their ground well, but fate had different plans as Xherdan Shaqiri scored within five minutes of introduction, and gave the Reds a vital lead.
Just after seven minutes, Shaqiri was lucky yet again as another deflected shot found the net and the game ended 3-1. The match ultimately turned out to be Jose Mourinho's last game as the Manchester United boss.
Last 5 Head-to-Head Meetings In PL
Manchester United Wins
0
Liverpool Wins
2
Draws
3
The Red Devils also won the latest meeting between the sides in the FA Cup fourth round at Old Trafford.
Liverpool are unbeaten against Manchester United in their last 5 PL meetings.
The Last time Manchester United beat Liverpool in the Premier League was back in March 2018 which was a 2-1 win for the Red Devils courtesy of a Marcus Rashford brace.

Prediction: Manchester United 2-2 Liverpool